[next] [previous] [content] [printable page]
The Oksendal / Trefall in America
Some of the emigrants from Yksendal bruk #1, and one from Trefall bruk #2
---
Content: [all at one page] [printable page]
Introduction, by Kaare Trefall

Lars Larson Yksendal b. 1852, gew up at bruk#1 on the farm Yksendalen, in the valley of Eksingedalen, on the south coast of Norway. He emigrated to Minnesota in America in 1875, 23 years old. His story is not told here.

The younger brother, Ivar Larson Yksendal b. 1861 went after, 6 years later. He went from Bergen on March 22. 1982, 21 years old and unmarried.

On the same boat there where two young men also from Eksingedalen, to neighbours from the farm Flatekval: Halvor Johannesen Fladeqval b. 1862(1?) from bruk#1, 20 years and at that time unmarried (later to be killed in an accident in America, stamped to death by horses, leaving wife and small children), and Johannes Knudsen Fladeqval b. 1862(1?) from bruk#5, 20 years and unmarried.
Iver (as Ivar Larson now called himself) went to Minnesota where his brother Lars lived. Instead of farming Iver turned to serve God, finishing as a 'candidate in theology' in 1892. Of unknown reasons Iver moved to Nord Dakota in 1893. In 1896 he baught a farm near Maddock, Benson County, North Dakota. When moving to North Dakota he started to serve as pastor for three congregations, and was constantly traveling in 16 years to his helth was gone.

The oldest brother, Nils Larson Oksendal (1846-1891), lived on the farm in Norway, and was a farmer there. He and his wife Anna Rasmusdatter Straume (1845-1913) had the children Lars b. 1875, Kari b. 1877, Nils b. 1878, Borghild b. 1880 d. 1882, the twins Borghild and Rasmus b. 1882 - Rasmus d.1882, Rasmus b. 1884, Anna b. 1886, and Ivar b. 1887. Four of these seven siblings growing up left for America.
At 4th of April 1900, Nils Nilson 22 years and unmarried, left for his uncle Iver in North Dakota. After living at his uncle's farm for a while, he bought a farm in 1901 13 miles southeast of Maddock.

Two years late the older brother Lars Nilson was leaving, 27 years and unmarried, from Bergen, on 4th of March 1902. His sister Borghild, 19 years and unmarried, was leaving with him. The story about Borghils is not told here.
On the same boat there also where four unmarried siblings from bruk#2 in Yksendalen. They where children of Herlaug Andersson Yksendal (1832-1903). The eldest, Dordei Herlaugsdtr b. 1872, 30 years, was daughter of Herlaug and his first wife Ingebjorg Torbjornsdatter Fjellanger (1830-1879), the three others Herlaug had with wife number 2 Sigrid Knutsdatter Trefall (1847-1931): Ingeborg Herlaugsdotter b. 1880, 22 years, Knud Herlaugson b. 1883, 19 years, and Lars Herlaugsen b. 1885, 17 years. Two other sons of Herlaug and his first wife had left for America 19 years earlier, on 20th of March 1883: Torbjørn Herlaugson b. 1863, 20 years and unmarried, and Andreas Herlougsen b. 1865, 18 years and unmarried. One year after that, one more sibling left, the brother Johan Carl Herlaugson b. 1867, 17 years and unmarried. So seven of these fifteen siblings left.

Back to the story about they who left from bruk#1:
Lars Nilson bought a farm in Butte, North Dakota in 1903. Some time later he sold this farm and bought a new one at East Fork Township, north for his brother Nils.
Nils rented out this farm and went back to Norway in late 1905. In the spring 1906 Nils went to America again, this time followed by his brother Rasmus Nilson, 22 years and unmarried. As reason in the emigration papers Rasmus marked out "Better income".

At the same boat went also a girl from the farm Lavik in Eksingedalen. This was Agate Andersdotter Lavik b. 1884, 22 years and unmarried. She was sister of Maria Andersdotter Lavik (1870-1938) who married Olav Nilsson Straume (Flatekval) (1867-1944) and moved to the farm Flatekval in Eksingedalen, farming at bruk#6 there. Maria and Olav is my great grand parents on my mother's side.
Rasmus went back to Norway in 1909. He had probably bought a farm near his brother Nils, which he must have sold before he left. Back home he met Kari Nilsdotter Trefall on bruk#2 on the farm Trefall. She was daughter of Nils Jonson Ekse (1859-1938) and Anna Johnsdotter Trefall (1869-1947), and sister of my grandfather (my fathers father), John Nilson Trefall (1890-1985). Rasmus and Kari married at 28th Juni 1913. The 22th of August the same year they left for America, they went from Bergen to Quebec in Canada with the Cunard Steamship Line, and by train to Maddock, North Dakota.
They settled in Maddock. The first child was born at brother Nils's farm. After different occupations, the family rented the Amonrud farm in Rich Valley, 6 miles south of the town the had lived in. They bought the farm a short time later. They lived on this farm for 26 years. In the 20s they lived a good, but hard life on the farm. So came the depression in the 30s, in addition to drought and grasshoppers stripping down the grain fields. They had to leave the farm. The ended up in the city of Spokane in the state of Washington, where both Rasmus and Kari are buried.

Here are the stories told about their life "over there". About Iver Larson, the Reverent, and about the brothers which Iver was uncle to: Nils Nilson, Lars Nilson and Rasmus Nilson. Most about Rasmus and his wife Kari Nilsdotter Trefall.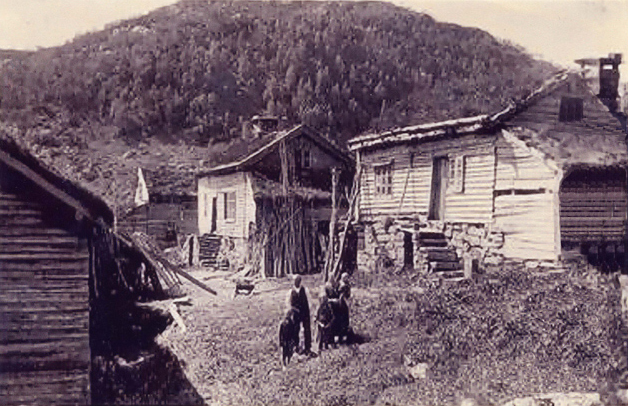 Yksendalen in the 1920s. Bruk #1 in the front.

These stories are collected and edited by Karen Windheim. She is married to Gary Windheim, which is a grand child of Kari and Rasmus. Hugo Solhaug (Kari's aunt, Ragnhild Jonsdotter Ekse (1869-1953), is Hugo's great grand mother) told Karen and Gary about my page, www.trefall.com, and this "project" started out.

[1] The same farm but different 'bruks'. A Farm could be divided into parts, each called a "bruk".
[next] [previous] [content] [main content] [printable]
Rasmus Oksendal
Collected and written by Karen Windheim, Oregon, USA.
Introduction by Kaare Trefall
Introduction:
Rasmus Nilsøn Øksendal (1884-1969) was seventh child of Nils Larson Øksendal (1846-1891) and Anna Rasmusdatter Straume (1845-1913). Rasmus went to America in the period 1906 to 1909. Home again Rasmus married Kari Nilsdotter Trefall (1893-1984) in 1913. Kari and Rasmus emigrated to USA, North Dakota in 1913. Their story in America could be found in Rasmus Oksendal Family. Kari's childhood on the farm Trefall in the valley of Eksingedalen could be found in Kari's stories.
The story:
Rasmus. Photo by Karen.
Rasmus was born October 5th, 1884 on the Oksendal farm in Hordaland, Norway. On the Oksendal farm lived Rasmus' parents Nils of the Oksendal farm and Anna from the Straume farm, his brothers and sisters Lars, Kari, Nels, Borghild, Anna, and Ivar. Other families lived on the same farm [1] so used the name Oksendal. Very little is known about Rasmus' life in Norway, he did live on a farm that Kari says was hard work "All things up the hill and down the hill". Hearing stories about American from his uncle Ivar [2] and two brothers, Lars and Nels, in North Dakota, Rasmus himself thought it would be easier farming in America. Nels returned to Norway for a visit and in March 1906 Rasmus went back to America with him. Also sailing with them was a 4th cousin Agathe Andersdtr. Lavik, 22 years old. Twenty-seven Norwegians left their homes that day, all in their 20s. After staying with uncle Ivar awhile, Rasmus and Nels bought farms in North Dakota near Maddock.
Lars homesteaded near Butte and later sold it and purchased a farm north of his brother Nils. Lars never married and passed away in 1953.

It has been wrote that Rasmus live in a cave for awhile, many farmers had sod houses at this time, and some of them were built Into the hillside, maybe resembling a cave. Sod houses were built by cutting sod (grass, roots and dirt) into strips about 8 inches wide and several feet long and then laying these on top of each other until the house was complete. After Rasmus had some kind of Illness he decided to return to Norway. It isn't known, how Rasmus came to be selling things door to door but this is where he will find his future wife.

Kari writes [3], "Later it happened that the man I didn't know anything about came to our house at Trefall, selling material for sewing, my mother told the two men to come in and set down. When they did no one would go in and talk to the 'stringers'. Mother said 'Kari you go, you can talk better.' After I went the rest of them came also at least my father came. It so happened that the string man had a brother in Oksendal named Ivar and he needed help, so dad sent me to Oksendal to work." This gave the string man time to get acquainted, and when the work was done at Oksendal he came to Trefall to visit. Four years after coming back from America, Rasmus asked Kari to marry him.

On June 28, 1913 they were married In the church at Nesheim and had a large party in the home of Karl's parents among many guest and 'many presents'.

After the wedding Rasmus and Kari lived on the Oksendal farm and soon Rasmus thought farming in North Dakota was easier then farming the hills of Norway. One day he told me he is going back to America to make merry and come back after a while. In a few short months they both had decided to cross the 'big pond' and start their new life in a new country. Rasmus kept the farm by renting it out. "We gather our finery and hung it up in a little room, and took along what we could in a trunk, he bought the ticket and off we went down to the ocean." Coming to the North Sea [4] they boarded a large boat to cross over to England and boarded a ship to sail to Canada [5].

They sailed on the Cunard Steamship Line [6] leaving Norway on Aug. 22, 1913, docking in Quebec, Canada. It took nine days to reach Quebec, through the St. Lawrence River route. They boarded a train and their trip ended in Maddock, a town nestled in the heart of a vast grain growing section of fertile North Dakota. Story continued in Rasmus Oksendal Family.

[1] The same farm but different 'bruks'. A Farm could be divided into parts, each called a "bruk".
[2] In ND Oksendahl was spelled with an 'h' in it. Rasmus dropped the 'h' when moving to Washington.
[3] Most spelling was left the way she wrote it and____ are words I couldn't figure out.
[4] records show they sailed from Bergen
[5] The authorities in Quebec were not so particular about the number of passeagers on board foreign ships and this made it possible for the shipping companies to carry a greater number of passengers to Quebec than they could to New York. Quebec took over as the main point of entry for Scandinavian Immigrants so the ships would carry emigrants westbound, and timber eastbound, so they were able to offer cheap affordable fares.
[6] The Cunard Ship line built the Queen Mary in 1936; they combined their business with the White Star Line (owning the Titanic) and became the biggest steamship company in history.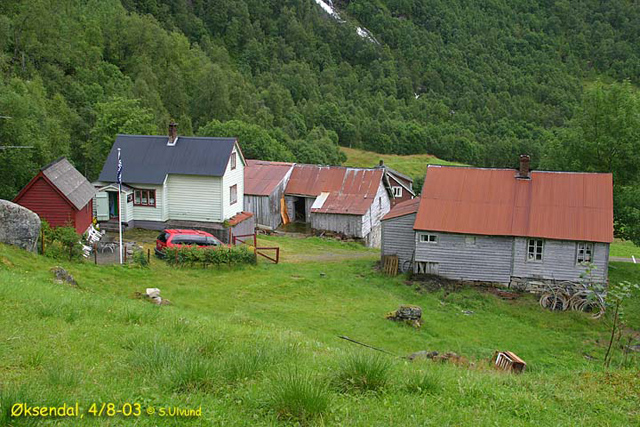 The Oksendalen farm in Eksingedalen where Rasmus grew up. Foto by © Svein Ulvund, VossNow
[next] [previous] [content] [main content] [printable]
[next] [previous] [content] [main content] [printable]
Kari's Stories
About the life at Trefall in the period 1893-1913
Written from stories by Kari Trefall at the 1970s
Collected and edited by Karen Windheim, Oregon, USA.
Introduction by Kaare Trefall
Introduction:
Kari Nilsdotter Trefall (1893-1984), daughter of Nils Jonson Ekse (1859-1938) and Anna Johnsdotter Trefall (1869-1947), grew up at bruk #2 at Trefall, and was sister of my grandpa, John Nilson Trefall (1890-1985). In 1913 Kari married Rasmus Nilson Yksendal (1884-1969). They went to North Dakota USA the same year. They changed the family name to Oksendal. Kari died 91 years old in the Washington state. Hugo Solhaug (Kari's aunt, Ragnhild Jonsdotter Ekse (1869-1953), is Hugos great grandma), the translator to Norwegian of this article, told Gary and Karen Windheim, Oregon USA, about my page www.trefall.com. Kari is Gary's grandma. Karen wrote down these stories (and others about the life in USA), and I am very thankful to her for allowing me to use her material on these pages. More to read on the pages about immigration to USA from Eksingedalen.
The story:

Kari. Photo by Karen
Kari Trefall's life [1] as a child sounds like what you would read of people of that time living in Norway. In summer time, her mother took the smaller children and moved up into the higher mountains (about two miles, I think she wrote "stolen") where there was lots of grass for the cows. They stayed there in the summer months and made butter and cheese from the milk. They lived in a small house that had two beds. The two neighbors on the Trefall farm did the same. On one trip up to the mountain house Kari remembers carrying the baby (maybe Arne), tied on her back with a long shawl.
As the children grew, the older ones stayed on at home with their father and put up hay for the winter to feed the cows and sheep. Since there were no cows at home in the summer, a barrel of milk was stored up and if it became sour, they drank that with their food which was flatbread and cured salted fish and some kind of pudding her dad made every morning to eat with the sour milk.
Every Saturday her father would go up to the mountains where her mother and the younger kids were. He would chop them some wood for cooking, visit some and leave for home Sunday evening. On Sunday, the kids spend their time picking flowers, blueberries and chokecherries. They climbed the hills and mountains and waded in the streams. The older ones at home spent Sunday cleaning the house. In the fall, mother, children and the cows would come home. The winter months were spent at school.
When Kari was 7 years old she started school which was 3 miles from home. Her and Elisbet would stay at the home of her uncles. (I believe that Kari wrote that the school was not far from her uncle Jakob's house. Nils' brother.)
In the winter time they would use skis to get to school on Monday, and would stay at the uncle's home for the whole week, and would carry their week supply of food with them. This would be in a box carried on the back and filled with flatbread, pote kaker (potato cakes), summer sausage, a bowl of butter, and so forth. Kari remembers that "We ate the same thing in the evening as we ate in the morning, except the lady we stayed with would make us a bowl of prim soup which was good". They never felt sorry for themselves sitting at one end of the table with their dry bread from the box, and the family sitting at the other end of the table eating all kinds of warm good food. This was just a common thing for children away from home.


Nils and Anna. Photo by Kaare
In the mornings she and her sister, Elisbeth would go to the barn to wash their faces and comb their hair. Kari says, "It was warm in the barn where the cows stayed". At night after going to bed, if they happened to awake, she recalls the "midnight sun" peeping in the windows. They didn't see the midnight sun at the Træfald farm. Coming home from school one time, she recalls a blizzard came up and she had to follow the teacher so she wouldn't get lost. She did lose one of her skis and had to hurry to find it so she wouldn't get left behind. Every Saturday, they went home, getting there about 4PM and Monday morning they had to be at school by 9 AM. So it went through the long winter until school ended in the spring. And when summer came again they were off to the mountains with mother and the cows.
When the children were older they worked away from home. Kari's brother John left home at 15 years to live and work for his aunt in Bergen. Brother Johan died when he was 12 years, and Kari became the "tom boy" in the family. When Kari was 16, she began working for other farmers. She worked for Ivar, her Dad's brother all summer putting up hay. She recalls she earned 89 Kroner or ? dollars, and she gave all of this to her Dad who put it in a trunk. They had very little use for money as they lived far from town. The family made all their clothes at home. They spun sheep's wool into thread and made stockings, sweaters, mittens, dresses and suits. The girls curreyed the wool and mother spun it into yarn. This was work done in the winter by her mother and the girls. Also they made quilts. The women fed the cows, calves and sheep, cleaned the barn, milked the cows and fed the calves. "Winter time seems to be easy for the men except to travel over the mountain after wheat, and we had a big wheat grinder at home to grind it into flour. The men would grind wheat for flour and cut wood for heat and cooking". The wood was from the hills around the house, they would go up in deep snow, stamp down the snow to make a road, then tie a rope to the tree, over the shoulder with the rope and drag it home. There was a big lake close to their farm and a river running by the barn. "One day dad took his net and put it in the lake and in the morning he had a tub half full of fish". He cleaned them and hung them up for smoking.
When I was about 3 years old I was sent to a good friend of mothers by the name of Nils and Anna Nesheim (they were good and loved me) I don't know the reason they sent me there but maybe my mother was sick or some other reason.
As the rule was in Norway (in the dark ages) mother and the girls had all the responsibility for the chores in the barn and house work. Feeding the cattle, sheep and claves, hay and water and cleaning the barn floor. In the winter we had to carry water for the flock from the river (on something over the shoulder with one long strap attacked to 2 buckets, one on each side) and fill up the tank in the barn. I slipped one time coming up the hill on ice with 2 buckets full of water and hurt my back.
The work in the house was cooking, (which mother did most of) in the wintertime we did the (karing) of the wool (we got from shearing the sheep in the fall) to make yarn. We had a spinning wheel to make yarn to make stockings, anklets, sweater and undies all by hand knitting. We girls learned to make our own, also for father and brother. One of my brothers died when he was 12 yrs' old. Johan fell from a cliff in the mountain and down onto a stone pile breaking legs and hands. Dad had to walk maybe 7 miles to get a Dr. and they had to walk maybe back 7 miles but not much could be done. No roads, automobiles, phone, horse and buggy. I and mother were home watching Johan, when he gained his senses or come to, he was praying for us and all mankind. He was thinking about us when he left. After Dr. was gone little Johan fell asleep, he did not go to heaven like the false religious clergy said then, and they say now that when one dies and believes in God his soul will go to heaven and be with God. Father made a little (kista) or box and put Johan in and we went to Nesheim -that's where the church and graveyard was, and there Johan is now sleeping in death and the rest of the family that has died - mother, father, Elizabeth, Ingeborg, Bertha. Five more living which soon may go to the same place if God does not hurry his great war of Armageddon.
When us children came to (Kirkegarden) the graveyard we walked a long way around it because there was an old man telling all the children that there was a ghost walking around in amongst the graves. We were so afraid. One time father said to take the "ferry" or boat - row it to the other side of the lake and pick up something he had forgotten. I was so afraid to go alone but I didn't tell him. We always did what dad told us to do. I went and loosened the "ferry" and in to the "ferry" taking hold of the oars rowed as fast as I could to the other side, picked up the forgotten thing and rowed back as fast as I could. The "ferry" was a box like raft where as the others had boats. Dad made the "ferry" himself.
Another time he told me to pick up 10 to 12 scythes used to cut hay with and go to a river (that runs into the river that goes by our house) and sharpen them. Again I was afraid to go alone but did not say anything. He tied them together, put then on my back and off I went to the little house that Dad and a neighbor had built for grinding flour. There were 2 big stones, one on top of the other. They were over a yard in diameter and had a hole in the center of the top stone. The top stone would turn and the wheat kernels dropped in the hole and the wheat was ground into flour and the flour dropped into a box. There Dad had his sharpener - a big round stone which also went around by Dads building a trough reaching from the river to the stone. I got on the seat, put on the water which would turn the stone. Here I was sitting sharpening the whole mess of scythes. When done I was very glad I put them all on my back in the rope and was on my way home. I didn't go through the neighbors but took another way. Yes, the time had come to use the scythes, the whole family helped. The men cut the tall grass and mother and children raked it nicely together and hung it on (heshas) or a fence like to dry. (Kari's drawing looks like cross hatches, the fence you see in Norway farm pictures) When the hay was dry we had to roll it into big bundles and tie one rope to each side and tie it on our backs and cross a river, to get to the barn and store it to feed the cows and sheep during winter. Not once did we let the cows and sheep out in the winter. The snow was so deep and to let a cow out we would have to dig her out.
We had a grass field on an island in the river. One time I had a load of grass on my back and crossing the river I fell. The stream was so swift I was afraid I would drown - I let go of the bundle of grass so it was lost. My Dad sent me home after he came running to see what had happened. Later on in the summer after we had let the cows out into the pasture and when there was no more grass to find we had to move the cows back into the mountains.

Kari and Rasmus. Photo by Karen
This is what Kari wrote about her wedding:
"The wedding - time went on, 17-18-19 years (old), asking me to marry him. This was 4 years after coming back from America, after thinking about it all we set the day for this wedding, next June. Mother got busy sewing my wedding dress. Dad got busy traveling 4-5 miles from home over mountain to get _____ for my mother to make for that great day. My wedding garment was a skirt - blue that mother made from waving, with green (fløyel) velvet around the fall".
White blouse, long sleeves with embroidery on the cuffs and next outside I had a red vest with pearled [2] floral on front and a big pin on top. And an apron with embroidery across the end, a white skaut (scarf) on the head made for only married women.
The man to be my husband had a dark blue suit, all dolled up Wedding guest start to come, mother and sister Anne, a sister of the man I married got busy cooking and putting all the goodies she had made, before hand on the long table with white tablecloth. Lefsa (griddlecakes), flat bread, Rømmegrant (sour cream porridge), dravle (curds of milk) and great Bresta[3]. The bridal party began to set down on the long benches; the bride with finery still in the little house just across the hall had not come out yet. I tell you why; I fell down on my chair asking God, is this the way for me? They came after me; we were to set at each end of the long table. Something about they were all happy and having fun. We had to walk to Nesheim to where the ____ was in the church. We all went in, the minister come as we two stood at the alter and told is that this joining together as one, was to last as long as we lived. The wedding was over." They went to live at Øksendal.

[1] Kari's life is from letters she wrote to her daughter Alice Dexter
[2] "pearled vest" would mean that the vest was embellished with pearls. They would have been hand sewn on in a design. Very pretty, and very popular in that time. I would image the head scarf was adorned also.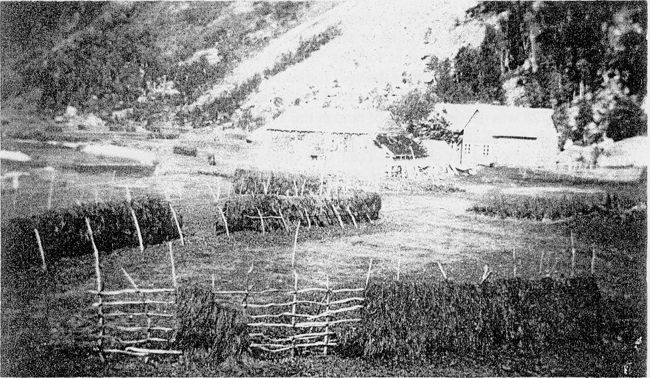 The farm Trefall, bruk #2, where Kari grew up. Photo by Karen
[next] [previous] [content] [main content] [printable]
[next] [previous] [content] [main content] [printable]
Rasmus Oksendal Family
In Maddock, North Dakota
Collected and written by Karen Windheim, Oregon, USA.
Introduction by Kaare Trefall
Introduction:
Kari Nilsdotter Trefall and Rasmus Nilson Yksendal emigtared to USA, Nort Dakota in 1913. The two youngest sons, Edward and Arne Oksendal are telling about the life at the farm "over there" in the article Life at Oksendal Farm. Read about Kari's childhood at Trefall in the article Kari's stories. More about Rasmus before he married Kari.
The story:
Kari, Rasmus and Alice. Photo by Kaare
After arriving in North Dakota they started their new lives in Maddock. Kari started her new life by lying in a hotel room with the measles. Rasmus soon left for Viking to find a job, he worked as a farm hand in the haying and harvesting work, and for a time worked in the woods as a logger. When Kari felt better she was moved to Rasmus' brother Nils farm. When she was well, she too looked for work and soon found a job cooking at the hotel. When Kari came from Norway, I don't think she could speak English, but she not only learned to speak English - with an accent- but taught herself to read and write English.

Their first child Alice was born in 1915 at brother Nils' farm. After Alice was bom, Kari moved above a store to live and Rasmus left to work in the woods.

To earn money Kail took in ironing. "Dad left me $50 to live on while he was away, but we didn't eat much and on his return, was able to return the money".
At harvest time Rasmus returned to Viking to work and Kari got a job with the Westby family keeping house and a place to stay with 2 year old Alice. Norval was born in 1917 at Westby, Rasmus register for the draft (WWI) in 1917 when the US declared war on Germany, but was never drafted; he was a farmer raising wheat for the soldiers. The war ended in 1918. The Spanish Flu home was going through town killing many people, so the family decided to move out of town. They moved to Esmond and rented the Amonrud farm in Rich Valley, about four miles south of town, later that year buying the farm. Here all the remaining children were born.

They lived on this farm for 26 years. They attended the Trinity Lutheran Church in Esmond and Rasmus was a member of the Rich Valley School Board where all the children attended school. Rasmus and son Norval drove the school bus for many years.

Kari writes, "The children seemed to get every sort: of illness - scarlet fever, diphtheria, scarletina, whooping cough, mumps and measles. Arne, the youngest had whooping cough so bad that I was sure he would die, and since he was just a baby and had never been baptized, I took a pan of water, dipped him down to it and sprinkled him with water and said the same words I had heard the Lutheran minister use and baptized him. That was all I could do and believed he would go to a fiery hell if he wasn't baptized." Arne recovered however. Gladys had whooping cough so bad that she fell out. of bed and Alice recalls running to the barn to find Kari, because Gladys had turned blue. Kari came and saved another baby.

The farm they bought had about 600 acres, and the 1920s must have been very good to the farmers, because Rasmus was able to buy equipment for the farm. This includes a McCormick Deering Tractor and Combine, plow, rake, seeders, mower, windrower, harrow and disk. "Dad planted several hundred cottonwood, popular, and ash trees on the north and west heep. Our farm was the first one to harvest grain in one operation. Other farmers used a stationary thresher. This required cutting the grain with a binder which bound the grain into bundles, and then someone would have to stack these bundles into a shock. Later a thresher would be pulled into the field and set up and the men would have to go around the field and pick up the bundles into hay wagons and haul them to the thresher and feed them into the thresher to separate the grain."

"Part of the 600 acres was in pasture and had a small stream running through it. We called this the Little Coulee. A big Coulee was to the west and it also had a stream, but during the summer these streams would dry up. We probably had about 400 acres under cultivation and raised wheat, durim, oats, barley and a little com. The com was used for feed for the cattle and horses. We had about 7 cows that had to be milked by hand twice a day. Our house had a large kitchen, bedroom downstairs and a bedroom upstairs. The farm had a house, bam, grainery (where grain was stored until we sold it), chicken coop, pig shed and outdoor toilet. We had no indoor plumbing or electricity. The water well was located about 100 feet from the house and was only about 25 feet deep. Water was pumped, by hand and the livestock were watered here also. Dad also bought a car - I believe the first was a Model A Ford, in the 1920s, but in the 1930s we had a Chevrolet. We also had a radio and telephone."

"Rasmus enjoyed politics (F.D. Roosevelt was President) and baseball. He was elected to the County Commission for the Township School Board, He smoked a pipe or cigar from time to time and he enjoyed playing Norwegian tunes on the violin and harmonica. Rasmus also spent time visiting with fellow farmers at the local bar in Esmond."

"Visiting consisted mostly of Sunday dinners with his brother Nils and that family, and sometimes attendance at the Lutheran Church in Esmond. During the 1920s and until the mid 1930s, we all spoke Norwegian at home and Rasmus subscribed to a Norwegian newspaper, but he had a good command of the English language. He was over 6 feet tall, weighed in then at 180 lbs. and stood tall and straight." Edward recalls, "He never milked the cows, but as I knew him, he seemed to be more of the supervisor then a farm worker. Kari and the kids did the farm work. Nerval did nearly all the plowing, seeding and harvesting."

It is believed that the Oksendal family-owned the second combine, a No. 8 International, in the valley. Norman Dunn owned the first. The combines were purchased in 1928 and 1929. Life was good in 'The Rich Valley', known not only for its rich land and harvests, but also for its good fellowship and kindliness.

"A program was held on Nov. 23, 1920 at the school and many attended for the programs and basket social. There was a sale of about 30 baskets with much friendly rivalry among the youngsters and grown-ups for that certain basket. The school netted about $50 to be used to buy a kerosene stove and playground equipment."

Karl was a hard worker all her life. Alice recalls her taking her and Norval out in the hay field, putting them on a blanket while she put up hay with a pitchfork. Edward recalls "Her milking cows by hand. She did a lot of canning from the garden with several hundred quarts of vegetable and fruit. She also canned Juneberries and Chokecherry jam which we picked in the little coulee south of our place and at Buffalo Lake. I think she also made chokecherry wine, but I don't recall this for sure." This means doing work outside on the farm, caring for the children, cooking meals, laundry by hand, sewing and gardening. They watered the garden by a bucket. Edward also recalls, "During the 1930s (Great Depression and Dusk bowl years), we lived mostly on Karl's cream and egg money. We would milk the cows and separate the skim milk from the cream in a hand cranked separator. We probably got about 5 gallons of cream a week, and probably about 5 dozen eggs (other than what we ate). Kari would take these to town on Saturday and sell them at the creamery or the grocery. If the kids wanted money for candy or some special item of entertainment, we would ask Kari and not Rasmus. When the girls started high school and staying in town, Kari would bring her canned vegetables and fruit, potatoes and meat from the farm for them to live on"

"What did we eat on the farm? Breakfast was usually hot cereal - oatmeal or cream of wheat (groet). On Sunday wre had fried chicken, mashed potatoes and chicken gravy with dumplings. During the week, I recall a soup like concoction; I think we called Prim, which was really scalded milk. We didn't worry about cholesterol or getting fat. Rasmus liked Sill, which was a pickled fish. We butchered our own beef and pork and had meat. We didn't have ice. but hung the carcass in the granary where it was somewhat cool. We also had apple pie, usually on Sunday, lots of vegetables from the garden and the canned fruit. On hot summer days when we were out in the fields working, we had sour milk in a 1/2 gallon jar placed under a bundle of hay to keep cool or cool buttermilk to drink. The sour milk was sometimes laced with cinnamon and sugar, and we loved those cool drinks on those hot days."

"The 1930s were very different from the 1920s. It included the Great Depression and the Dust Bowl. The Banks closed, the stock market crashed, and the price of grain dropped. We even had rationing and were forbidden to grind our own wheat into flour. Mom says that they had to buy dark colored flour for baking and the only way to make it rise was to put oatmeal in it. Year after year we had a drought when harvest of wheat resulted in only 10 - 15 bushels to the acre. (At Idaho Falls, farmers get up to 125 bushels to the acre). Grasshoppers would strip the grain fields. I can. recall seeing clouds of grasshoppers in the sky that would cause a shadow on the ground they were so thick. We also had hail storms that flattened some fields. Life was hard but during the 1930s we always had plenty of food to eat, and a good car, and all the things a farmer needs to farm 600 acres, We had no irrigation, but lived mostly on the cream and egg money. I suppose any money from their harvest was used to pay mortgages and gas -and maintenance bills. We didn't spend money like we do today but Ed had a bicycle, Bertha had a guitar and Ann had a radio."

At the end of the 1930s or early 1940s, the family lost the farm and Kari and Rasmus moved to Lewiston, Idaho, then to Clarkston and then on to Spokane in Washington. "When we moved to Lewiston, Rasmus worked in the Potlatch Sawmill for a while, and then in Spokane at a hotel and cafe on Riverside. He applied for a job at the Aluminum Mill in Spokane, but probably because of his age, he was not hired. He said that they told him that a farmer was a jack of all trades, but a master of none. He went into carpentry work until the later years when he worked for the Davenport and Coeur d'Alene Hotels." Rasmus' last job was as a night janitor at the Riverside Theater in 1955. Kari worked as a maid in the Davenport Hotel.

While they still lived on the farm in North Dakota, Kari was visited by one of Jehovah's Witnesses on a bicycle who sold her some religious books. She read these, subscribed to the WT and Awake, and began offering magazines and booklets in Esmond and Maddock. There was no meeting place and no one studied with her. The first meeting she went to was in Lewiston. She was very shy and says she stood outside across the street from the Hall several Sundays without going in. Finally one Witness approached her and invited her in. She was baptized at Cleveland, Ohio at a District Assembly in 1946, Pioneered from 1950 to 1961, traveled to international conventions in NY City twice - 1952 and 1958. Kari says that their religion in Norway was father reading from a book (not the Bible) on Sunday. "The only time we learned a little was when a man came around and had a meeting in one of the three houses at Trefail as there were 3 farms close together. He read from the Bible and said a few words about it."

Kari was very active as a Witness. Her territory was on the South Hill of Spokane where the territory is very hilly. She did ail her Witnessing on foot and never was able to drive a car or ride a bicycle. She also did a great deal of street witnessing carrying magazines with her when she went downtown and offering them while she waited for the bus as well as early in the mornings. She also had many Bible Studies. She traveled to all the big conventions, NY City twice, Cleveland, Los Angeles, Vancouver, British Columbia- and her letters always encouraged serving Jehovah whole souled. In letters to her grandchildren she always tucked in Witness News. (When a Witness would come to our door in Junction City I always told them that we got our literature from Grandma. - Karen Windheim.)

Before Rasmus' death, he had high blood pressure and a doctor told him to quit smoking, which he did immediately. He also had diabetes in his old age and had a leg amputated because of sores that wouldn't heal. He lived to the age of 84 years and died in Spokane, on February 5, 1969. Rasmus is buried in the Fairmont Memorial Park Cemetery. Kari lived 15 years more and died at the age of 91 years on Nov. 9, 1984. She was cremated by Riplinger Crematory in Spokane. Her headstone lies above Rasmus with daughter Bertha Lee to the right and son Nerval to the left.
Harvesting. Photo by Karen


Oksendal Farm, Benson County, Esmond, North Dakota. Foto by Karen




Family Oksendal in 1931, and the original farm house in the 20-30s. Photo by Karen




Map, and baying Oksendal Farm. Photo by Karen. Click to enlarge




The 1920 and 1930 census, Benson County, Rich Valley. Photo by Kaare. Click to enlarge
[next] [previous] [content] [main content] [printable]
[next] [previous] [content] [main content] [printable]
Life on the Oksendal Farm
Written by: Ed Oksendahl and Arne Oksendal
Collected and edited by Karen Windheim, Oregon, USA.
Introduction by Kaare Trefall
Introduction:
Edward and Arne Oksendal are the two youngest sons of Kari Nilsdotter Trefall and Rasmus Nilson Yksendal which emigrated from Eksingedalen, Norway, to North Dakota, USA, in 1913. More about the life of the immigration family could be found in the story of Rasmus Oksendal Family. Kari's childhood on the farm Trefall in the valley of Eksingedalen could be found in Kari's stories.
The story:

Rich Valley school. Photo by Karen
Ed wrote - The Rich Valley Township in which we lived was peopled by immigrants. Our parents came from Norway and spoke Norwegian in the home, but most of the rest of the township was peopled by immigrants from Russia, and they spoke Russian in the home. There was a little prejudice and suspicion between the Norwegians and the Russian families. Nearly all the students in this class at school were 1st. generation Americans of the Russian background. This included Peter Fettig, Lew Wentz, Vivian, Jean and Florence Leieer and the Bachmiers. I don't recall a single time when any of my schoolmates visited me on the farm and I don't recall ever visiting any of them. Also, the Russian-American were Catholic and the Norwegian-Americans were Lutheran and this kept them separate also.
On the farm I milked cows (there were 7 milkers), fed the pigs, horses and calves. We milked in the barn, and it was very unsanitary with cow manure on the floor and flies everywhere. The cows were never washed and often flies, pieces of straw would fall into the milk pail, and we would pick them out with our fingers. Each cow gave 2 or 3 gallons of milk and after milking we would pour the milk in a separator, turned by hand, and milk would come out of one spout and cream out the other. The cream was put into 5 gallon cans and on Saturday they would be taken to town and sold. It seemed we always had a big collie like dog named Bingo. Our farm had a small coulee to the south of us and a big coulee to the west and this is where the cows and horses would pasture. I would get the cows and Bingo would go along. There were small streams in both coulees, but in summer they would dry up. There were no fish in these streams. The coulees had foxes, minks, skunks, weasels and gophers. Gophers also would have burrows in our grain fields and around their holes they would eat the grain and there would be a spot with no grain, only bare ground around each hole of about 10 feet in diameter or more. We would use poison to kill them, also traps, snares and a 22 rifle, but each year there were as many as before. At one time the county paid a bounty of 2¢ for each gopher killed, and I snared dozens of them. We also got a bounty for crow eggs. In the winter I trapped weasels and would get between $2 and $3 for each weasel pelt. I also hunted skunks. The way to catch skunks was to find a den and then wind a piece of barbed wire into the hole. This would catch onto the fur and then you would drag it out. I suppose you could do the same with a fox. It was a smelly work and I recall going to school once with skunk smell on me. One spring, I recall finding a fox den in the Big Coulee. I hid in the bushes nearby and watched. The mother fox was nearby and would bark, and the baby foxes came out and played at the den. I barked back at the mother fox. I also recall a hawk diving at me when I got near her nest. It made a whistling sound as it came down, but I never found her nest.

Arne wrote - When I was about 8-9 years old I went hunting with a 22 cal. Rifle. Setting traps for weasels and mink in the winter, and selling the skins for pocket money. And also skunk hunting. Skunks hibernate in the winter and the only way to catch then is to make them come out of the hole. Smoke cartridges were placed in the hole but were not very effective unless there was an air hole at the other end. Another way was to take a length of barbed wire and bend a hook at one end and make a crank at the other end. The wire was shoved into the hole as far as possible, and then turn the crank on the opposite end; eventually the hook would grab hold of the fur and skin of the skunk. Cranking as tight as possible and pulling on the wire I could pull the skunk to the tip of the hole. This time I hooked the seat of the skunk and slowly pulled it out of the hole. I kept pulling to see its head so I could shoot it in the head with my 22 rifle so as not to damage the fur on the body. Pulling on the wire with my left had and with my rifle ready in my right hand I caught sight of its eyeball. The skunk got sight of my eyeball too and he shot his missile right into my right eye before I could shoot him in the head. He was faster on the draw and a better marksman then me. I dropped my rifle and wire and wiped my burning eye and went home, washed and changed cloths but the smell lasted for a good week. That was my last skunk hunt.

We would not skin skunks because of the smell and sold them whole for about $2.50. Mink and weasels we would skin and then turn the fur portion inside and then stretch it by pulling the skin over a thick flat wide board. By doing the skinning ourselves we could stretch it to larger side and get a better price for the fur.

Another thing we did was catch gophers in the summertime. Benson County offered 2 cents bounty for each gopher tail that was brought to them. Gophers were doing damage to the crops so the county offered a reward for each one caught, I would use binder twine that was used to tie bundles of wheat or sugar cane. I would make a noose at one end and place the noose over the gopher's hole and then lay flat on the ground about 50 feet away waiting for the gopher to stick his head out of the hole. When his head was high enough I would jerk the twine and snare the gopher. After killing it I would cut the tail off and put it in a can and add more and finally take the tails in and get my bounty.

With my money I bought an old bicycle from a neighbor but don't remember if I ever learned to ride it or not. I ordered a lens kit for a telescope but being out in the country I couldn't find a tube to install the lens in, so I gave it up.

Edward bought a 2 seat horse and buggy and rode it around. Norval, my oldest brother bought a car, I think it was a 1937 Chevrolet. I remember very little about my four sisters during this period. My Uncle Lars would bring candy for me in his Model A car. I had a lot of fun and things to do and seemed to be satisfied with farm life.
Ed wrote - Our farm work included mowing and raking hay. This was with two horses and pitchin hay onto horse pulled hay wagons and onto haystacks, riding the combine during grain harvest, shoveling wheat from the grain wagon into the grainery, and being a "go-for" for his brother Norval, when Norval was fixing some farm machinery. I enjoyed farm work and don't every recall complaining. When Norval wanted something, he would always run both ways to get it. I recall working for Edward Willy one fall during harvest. I earned $100 hauling bundles of grain to the stationary thresher that Willy ran. The hay wagon was pulled by two horses and had iron wheels, no tires. It was bumpy. I recall one other bundler hauler, Peter Fetting; he would fill up the hay wagon first and then race to another field. His hay wagon had rubber wheels and we would gallop the horses down the road to the other field. After harvest was over, Edward Willy took us to town for a milkshake then drove me home. He lived about a mile south of our farm. He dropped me off about a ¼ mile from our house and I walked from there. I took a shortcut across a field that was being plowed and lost my $100.
Arne and Norval. Photo by Karen
Mom and I hunted for it and couldn't find it that day and we though it was probably plowed under, but I finally found it the next day. I also worked for other farmers in mowing and raking hay. I must have been about 12 years old at this time. At one time I had my own calf to raise (a shorthorn steer) and entered it in a county fair and got a prize. I don't recall how I made money, but at one time I bought 160 acres of land near Devils Lake for $1000, and sold it after the family moved west.

There seemed to be plenty of time for recreation. I had a pony (a black 20 year old Mustard or Indian pony that had come from Montana). I rode bareback and had no saddle. This horse was like a quarter horse, very fast for a short distance. I remember racing with two other boys on Dec. 7, 1941. They had big horses and one was a purebred Morgan. My pony would beat them for about 50 yards and then they would pass me. The reason I remember what day it was is because we stopped at one of the boy's houses and his mother came out and said the Japanese had bombed Pearl Harbor and President Roosevelt had declared war (World War II). I also skied on home made wooden skis. I believe it was in 1939 that Russia attacked Finland in World War II and the Finns dressed up in white uniforms and engaged the Russians as guerillas on skis. Russia never did conquer Finland. But I recall skiing in the Big Coulee pretending I was a Finlander. We also learned to skate.
[next] [previous] [content] [main content] [printable]
[next] [previous] [content] [main content] [printable]
Nils Oksendal
A Norwegian emigrant's life in America
Written by Nels Oksendal.
Collected by Karen Windheim, Oregon, USA.
Introduction by Kaare Trefall
Introduction:
This is the story of Nils Oksendal, born July 15, 1878 on the Yksendal farm in Eksingedalen, Norway. Nils Nilson Oksendal (1878-1960) was third child of Nils Larson Oksendal (1846-1891) and Anna Rasmusdatter Straume (1845-1913). He emigrated to USA, North Dakota, first time in 1900, permanently in 1906. Lars was brother of Rasmus Nilson Oksendal, which setteled in the same area when he emigrated permanently in 1913. Mor about Rasmus under Rasmus Oksendal.
The story:

Nils. Photo by Karen
When a young lad I attended school during the winter months, traveling sometimes on skis to school when the snow became too deep to walk. Later I read for the Minister in my home town in Norway. I worked hard when a young lad, until my younger brothers and sisters became old enough to lend a hand. It was then that I began to think of America.

I had heard a great deal about conditions on the "other side" of the Atlantic as a number of people from my home town in Norway had made the trip to America before and had written home telling about the "Land of Plenty".
Leaving home is one of the hardest things in life sometimes, but never the less; I packed my suitcase and prepared to emigrate to the United States - May 1900. At Bergen, I met others who were also going to America, as the "Fever Bug" had bitten them, too.

Once on the boat at Bergen, we sailed for Liverpool, England where we transferred to the ship 'Teatonik' of the White Star Line, taking on many more passengers who were also headed for the new? land of promise.
The first day out of Liverpool we lost sight of land and it became quite stormy. Soon sea sickness overtook many and there were only a few sturdy characters who managed to overcome the sickness of the sea and were able to roam about the decks, I was among them. The storm lasted for days, and at times the waves were so high they rolled over the decks of the ship.
Teutonic. Photo from www.norwayheritage.com
Later, the storm died down and by the time we neared New York, most of the passengers were once again on deck. The entire trip from Bergen to New York took just 10 days.

Once on land, we were asked to show our identification papers and to where we were headed, and if we had sufficient monies to take us there. Some did and some didn't, but those who found themselves short of cash, usually borrowed from, those who were more fortunate and once off Ellis Island, they returned the money they borrowed a few minutes previous.

From New York, some of the emigrants boarded a train for St. Paul. This trip lasted three days, but as a spot out on the prairie, later to be called Maddock, wras my destination, I stayed on the train until it arrival at Minnewaukan. My uncle Ivar Oksendahl met me there.

With horse and buggy we started out for his home, south of Maddock. We passed the evening talking about the old country until we lost track of where we were. Stopping at a sod house we asked where the Waterloo Post Office was and soon was on the right road.

The next morning I looked around and said to myself "now I'm in America", but I didn't think it looked so hot. The houses were small sod buildings and not many of them. I didn't think the barns would withstand the storms I had heard about and the grain buildings were so big I was sure the grain would get lost.

I stayed at my uncle's farm working, receiving $25 per month during spring, summer and fall and $10 in the winter. I farmed his place after he quit farming and in 1901 filed on a quarter of land 13 miles southwest of Maddock. I built a claim shack, 8'xl2'x6' high of thin boards and studding. After filing, I rented the farm out and I decided to make a trip back to Norway.

I traveled to New York by train, then ship to England, then boat to Bergen, Norway and from there to Yoss by train, and walked home. I got home Christmas Eve. I spent the winter months visiting acquaintances. When spring came around I had the "America Fever" again.

This time I sailed to Boston and again the sea was stormy. I arrived in Maddock the spring of 1906. For some reason the country looked a lot better then it did when I first came. I worked odd job until I took back my farm and built a larger house on it.

On June 27, 1910 I married Jennie Anderson, I was working on roads at that time but in 19111 started farming on our place. Fanning had its ups and downs but we hung onto our farm. In 1933 I ran for County Commissioner and held that office for 12 years. I went back to Norway again in 1954 and spent my remaining years on the farm.

By Nels Oksendahl, taken from the book "A History of the Community of Maddock, North Dakota 1901 - 1951"

From a small article in ND Standard Newspaper, Maddock, July 15, 1954, headline "Leaves for old home town in Norway": Nels N. Oksendahl of Maddock will leave soon for a visit with his brother, Iver, at Eksingedalen, Norway. Mr. Oksendal plans to leave here Friday of this week for Minneapolis, where a group will assemble and go together to New York where they will board a ship for Norway and the 'old home town".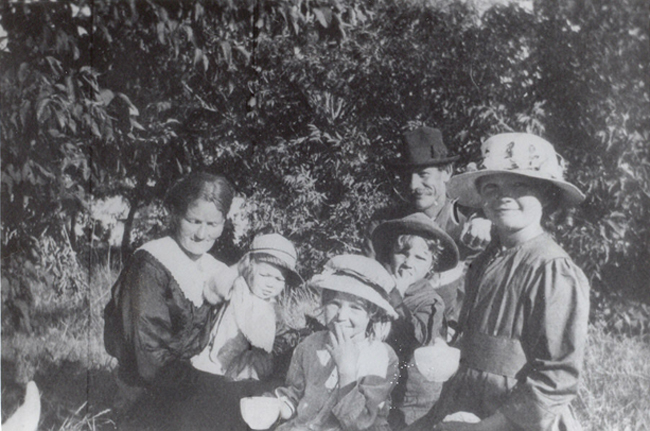 The family Nils Oksendal in Amerika. Photo by Karen
[next] [previous] [content] [main content] [printable]
[next] [previous] [content] [main content] [printable]
Lars Oksendal
Collected and written by Karen Windheim, Oregon, USA.
Introduction by Kaare Trefall
Introduction:
The life of Lars Nilson Oksendal (1875-1953), first child of Nils Larson Øksendal (1846-1891) and Anna Rasmusdatter Straume (1845-1913). He emigrated to USA, North Dakota, in 1902. Lars was brother of Rasmus Nilson Oksendal, which setteled in the same area when he emigrated permanently in 1913. More about Rasmus under Rasmus Oksendal.
The story:

Lars. Photo by Karen
Lars was born November 5th. 1875 on. the Oksendal farm in Hordaland, Norway. He grew to manhood here and in 1902 decided to follow his uncle and brother to America. He sailed with his sister Borghild on March 4th, 1902, and 4 Oksendals from bruk 2 (not blood relatives). He filed his 'first papers' in May of 1903, and homesteaded near Butte, North Dakota. He sold that farm and moved to East Fork Township where he purchased a farm north of his brother, Nels, where he spent part of his time. He worked for a while south of Maddock, and spent some time visiting his uncle Ivar in Washington. He became a citizen in 1921. He never married and passed away in 1953. He was laid to rest in the Fron Church Cemetery, south of Maddock.
[next] [previous] [content] [main content] [printable]
[next] [previous] [content] [main content] [printable]
Iver Oksendal
Reverend Iver Larsen Oksendahl.
Written by Karen Windheim, Oregon, USA.
Introduction by Kaare Trefall
Introduction:
Iver (Ivar) Larson Yksendal (1861-1928) is brother of Nils Larson Yksendal (1846-1891). Nils is the father of Rasmus Yksendal. Iver left for America in 1882.
The story:

Iver. Photo by Karen
Iver Larsen 0xendahl [1] was born on the Yksendal [2] farm in Hordaland, Norway on February 9,1861. His parents were Lars Nilsson from 0vre Helland and Borghild Torbjornsdtr. of the Yksendal farm. They had eight children, Iver being the youngest. His oldest brother Nils took over the family farm and the care of his parents in 1880. Haldor and Torbjon the next two sons married and moved to their wife's family farms. Lars the fourth son had already left for America in 1875. His three sisters married and moved to their husbands' farms, leaving Iver at home to work for his brother Nils.
On April 22, 1882 at the age of 21 years Iver left the Oksendal home farm. He sailed for the United States landing in Philadelphia, Pennsylvania. His trip ended in Minnesota were his older brother Lars had settled.

Iver unlike his siblings, turned to serve God instead, of farming. After attending Luther College in 1883 for two years, he was a teacher at a parochial school in Kasson, Minnesota from 1885 to 1889. He started his theological training at Luther Seminary in 1889 and finished as a 'candidate in theology' in 1892 [3]. The next year he declared, his intentions to become a citizen of the United States on May 13, 1893 in Eddy County, North Dakota and became a citizen, on August 20, 1901 in Ramsey County, North Dakota. Why he moved to North Dakota is not known. Iver was married to Tora ? in 1885,1 don't have a record of this but since he was taking his schooling in Minnesota, at the time I believe he was married there. After they moved to North Dakota they settled in the Antelope Valley area of Benson County.

Iver being a theological student was called to help serve for the then struggling congregation of Antelope Valley. In the spring of 1893 he was called to serve as pastor for the congregations of St. Olaf, Viking, and North Viking Churches.

The pioneer pastors in this section of North Dakota served a very extensive field covering three counties, namely Ramsey, Benson and Wells. Many were the difficulties encountered in serving the scattered congregations. Traveling was a problem at ail seasons of the year. The trails were deceiving, leading in every direction, and during the long winter months when continuous storms piled the snows into hug drifts, finding your way was hard because every landmark and even the settlers' homes were covered with the drift. Summer brought dust and ruts to the roads. In season and out of season, Iver ventured forth to break the bread o'f life to the sick and the dying, and bring comfort to the bereaved and the broken hearted. The pioneer pastor was indeed an itinerant preacher, pastor, and evangelist. He was faithful to his trust, uncomplaining about his hardships, and willing to share the trails of frontier life with the people who he served [4]. After serving 16 years Iver's health was gone, undoubtedly to the strenuous pioneering of his service. He was a quiet, unassuming person, who won the love and respect of all he served. It can be truly said of him that he gave himself as a loving sacrifice to this community and to the church [5].

While serving as a. pastor he also became a farmer. At Devils Lake land office on June 20, 1896 Iver Oksendahl of North Viking, Benson County, North Dakota, filed his first application for a homestead of E 1/2 of SW 1/4 and lots 3 & 4 of section 31 in township 152 of range 69, containing 157.63 acres of prairie land, for a fee of $14 [6]. On August 15, 1896 Iver settled on his land and began to cultivate it. He built a frame house 14 x 28 x l2; a framed barn 24 x ?6 x 14; a grainary 16 x 24 x 6 and put in a well. He valued the whole place at $1,650.0 in 1903 when he filed for proof On April 11, 1903 he gave notice of his intention to make final proof to establish his claim for the homestead. His witnesses were Lars O. Larson, Oie Holdale, Bemt and Christian C. Wesby all of Maddock. He states that he and his wife with their three children have continuously resided on the land. He also stated that he cultivated 10-140 acres and had raised 6 crops. The final certificate # 6944 was filed on June 1, 1903 at Devil Lake for the fee of $3.95. The patent (title) was issued May 5, 1904 [7].

Iver's' wife Tora lived two more years dicing on Nov. 4, 1906 and was laid to rest in the North Viking Cemetery. She left Iver with three small girls, the youngest being 6 years old. Two years later Iver married Marine? and moved the family to Livingston Bay, Island County, Washington. There he became a dairy farmer. In the North Viking Cemetery list is an infant Oksendahl born 1908 and dieing in 1909. On the 1910 census Iver and his wife note that a child was born to them but died, this might be their infant and if so they left for Washington sometime after the baby's death in 1909. Iver was found on the 1920 census but his wife was listed, alone on the 1930 census so we assume that Iver died sometime between 1920 and 1930. There is an Oksendahl headstone in "Our Saviour Lutheran Cemetery" in Stanwood, Snohomish Co., Washington, but no names or dates are on the stone.

Constance Oksendahl Iver and Tora's first child married Shelton Yates and lived in Seattle, Washington. She died in 1973 and Shelton in 1984. Constance willed the North Viking, Viking and St. Olaf congregations $25,000 at her death in honor of her father Iver.

[1] First USA spelling of Ms name
[2] Oksendal farm today
[3] School Calendar 1.824-1924 (Who's who among teachers in the Norwegian Lutheran Synods of America 1924 pg.547) and. Who's who Among Pastors 1843-1927 pg. 450.
[4] Taken, from "Yesterday, Today and Forever" North Viking 1888-1988 Book
[5] Taken from "Yesterday. Today and Forever" North Viking 1888-1988 Book
[6] Appi.ica.tion # /838
[7] Rec. Vol 164 page 394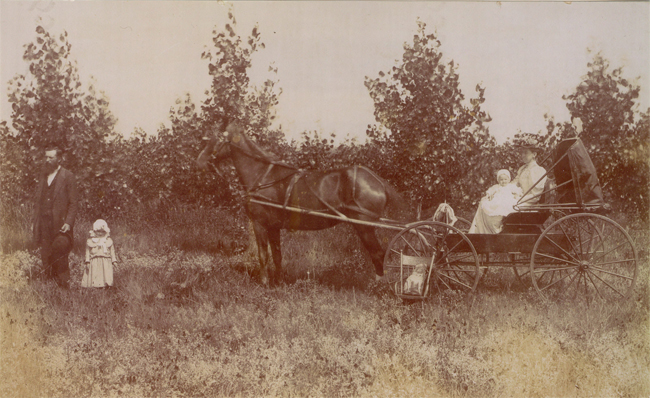 The family Iver Oksendal in America. Photo by Karen
[next] [previous] [content] [main content] [printable]
[next] [previous] [content] [printable page]
The Oksendahl families in America
The emigrants from Yksendal bruk #2
---
Content: [all at one page] [printable page]
Introduction, by Kaare Trefall

In 1868 the first of those who grewn up at Yksendal, in the valley of Eksingedalen on the west coast of Norway, went to America. This was Ragnhild Andersdotter b. 1837, 31 years, from bruk #2. She was married to Anders Davidson Gullbraa, b. 1816, and was at the time of emigration living at Tistelen, Vik in Sogn. Their story are not told here.

Ragnhild's brother, Herlaug Anderson Yksendal (1832-1903), was farming at bruk #2 in Yksendalen. He was married to Ingebjørg Torbjørnsdatter Fjellanger (1830-1879).

20th of March 1883 two of Herlaugs sons went, the two brothers Thorbjørn Herlaugson b. 1862, 21 years, and Andreas Herlaugson Yksendal b. 1865, 18 years, both unmarried. In America Torbjørn took the name Tom, and Andreas the name Andrew. Their first stop was Grand County, Minnesota, then they went further west to the Dakota territory.
One year later, 24th of April 1884, another brother, Johan Karl (Carl) Herlaugson, b. 1867, 17 years, went. First to Minnesota, then further west to his two brothers. Later to disappear, either fallen in the Spanish American War on Cuba, or as a deserter in the American war against the Indians.

15 years later, 4th of march 1902, also the sister Dordei Herlaugsdotter, b. 1872, 27 years and unmarried, went. She took the name Dina.

In the stories told here you can read about the new life "ower there" for these four siblings. Andrew and Tom were active politican in their new homeland.

Their mother died in 1879, and Herlaug married to Sigrid Knutsdatter Trefall (1847-1931).
On 4th of march 1902, together with Dina, also 3 of Herlaug's children from the marriage to Sigrid went: Ingebjørg Herlaugsdotter b. 1880, 22 years (she took the name Ingeborg), Knud Herlaugson b. 1883, 19 years, and Lars Herlaugson b. 1885, 17 years, all unmarried.
Dina's brother, and half brother to the other bruk #2 siblings, was also on the passanger list that day. He had now become an American citizen, and had been back in Norway to bring more siblings iand half siblings to America.

On the same boat there also were two siblings from bruk #1: Lars Nilson b. 1885, 17 years and Borghild Nilsdotter b. 1882, 19 years, both Yksendal. So there were 7 Yksendal on the Boat leaving Bergen this late winter day 1902.

One more of the siblings, Nils Herlaugsson b. 1886 (took the name Nels), son of Herlaug and Sigrid, went after 11th of march 1905, 19 years and unmarried.

Also some about the siblings Ingeborg, Knut, Lars and Nels in their new homeland are told here.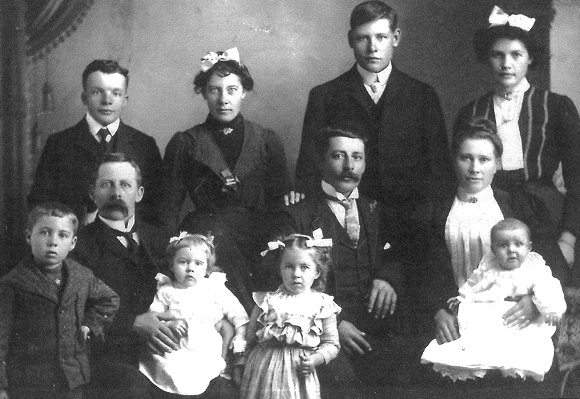 In USA about 1903-04. Back left: Lars, Dordei (Dina), Knut, Ingebjørg (Ingeborg). Front left: Torbjørn (Tom) with his thre oldest children Ingvold, Mabel and Ruby, Andreas (Andrew) with his wife Sophia and son Arthur. Of the siblings told about her, Johan Karl and Nils are missing on this picture.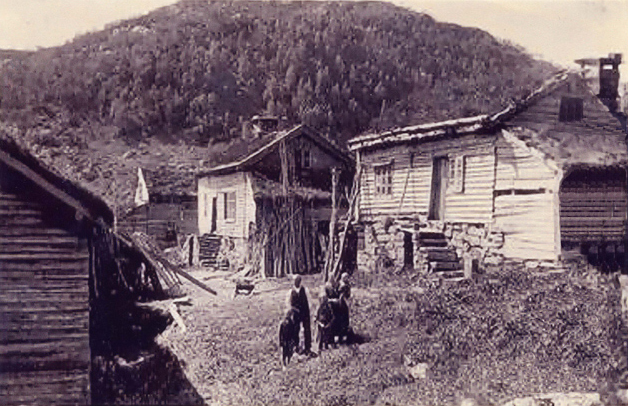 The farm Yksendal in mid 1920s. The main house at bruk #2 in the far back. Photo from Karen Windheim.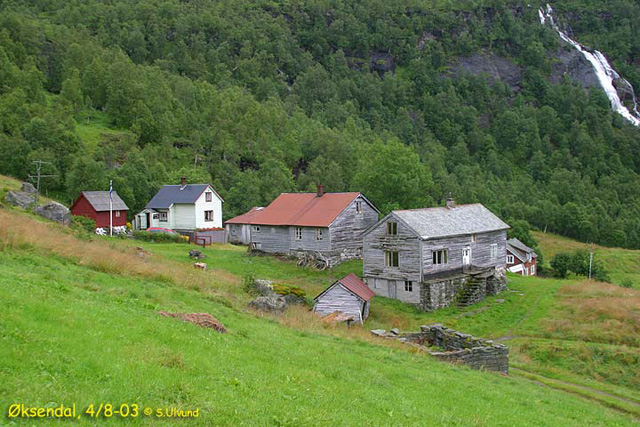 Yksendal today. The main house at bruk #2 in front. Foto by © Svein Ulvund, VossNow

Thes pages about "Yksendal bruk #2 to America" had not been written without Hugo Solhaugs contributions, from his material collected fom relatives in America, ancesters of they who left Norway!!


[1] The same farm but different 'bruks'. A Farm could be divided into parts, each called a "bruk".
[next] [previous] [content] [main content] [printable]
Torbjørn (Tom) Herlaugson Oksendahl
Written by Arthur (Arth) Oksendahl b. 1903, son of Torbjorn's (Tom's) brother Andreas (Andrew).
Collected by Hugo Solhaug
Introduction:
In America Torbjørn called himself Tom.
See also the page "Oksendahl bruk #2 in America", the Introduction.
Here morea about the brother Andreas (Andrew), here more abot the brother Johan Carl, about his sister Dordei (Dina), here about the half sister Ingebjørg, here about the half brother Knut, here about the half brother Lars, here about the half brother Nils.
The story:
Torbjørn (Tom) Herlaugson Oksendahl was born November 17, 1862, and died September 29, 1931.
He came to the United States from his native Norway in 1883 with his brother Andrew, settling in Grant County, Minnesota.
Warked as a farm laborer, and also taught school a cuple winters. Came to Pierce County where he was eventually to make his home, in the spring of 1886, driving overland from Hillsboro, N. Dak. with four oxen and a wagon. He took a clame sout of Rugby, built shanty and lived there several years; farmed with oxen. By 1895 he had had a good sized farm of 320 acres. He then spent several weeks looking over Alberta, and the Northwest Territory in Canada,but came back to Rugby and then purchased a hardware store. Sold it again in 1901.
In 1897 he married Julia Hiller. Three children were born to this unio, Ingvold, Ruby and Mabel. In 1902 his wife passed away, and in 1909 he remarried. This time to Kirsten Scherven.

Six children was born, Emelia died a few days after birth, Thomas, Earl, Roland, Kermit and Ruth. He made two trips back to his native land. First in 1901, and again in 1912. Also lived a short while at Everett, Washington. Came back to North Dacota and in 1918 moved to the towen of Rugby where he lived until his death. Kirsten died May, 1951.

Prominent in political affairs since the early days, he held various offices throughout his lifetime. He served as clerk of the state senate, and house of representatives. Served as representative one term. Was also Deputy Register of Deeds, Deputy Sheriff, Village Marshall and County Judge.
[next] [previous] [content] [main content] [printable]
Andreas (Andrew) Herlaugson Oksendahl
Written by Arthur (Arth) Oksendahl b. 1903, son of Andreas (Andrew).
Collected by Hugo Solhaug
Introduction:
In America Andreas called himself Andrew.
One of Andreas's grand children, Robert Finnegan, has written a message in the guestbook.
See also the page "Oksendahl bruk #2 in America", the Introduction.
Here more about the brother Torbjørn (Tom), here more about the brother Johan Carl, here about the sister Dordei (Dina), here about the half sister Ingebjørg, here about the half brother Knut, here about the half brother Lars, here about the half brother Nils.
The story:
Andreas (Andrew) Herlaugson Yksendal was born Feb. 5, 1865, died March 7, 1953.

He came to the United States from Norway in 1883. At that time he got as far west as Grant County, Minnesota. Spent a couple of years throughout there, then pushed on westward to North Dacota or wat was then Dakota Territory. Came to what is now Pierce County in 1886 driving overland from Hillsboro, North Dakota with oxen. Took about a week to make the trip. Squatted on a preemption claim.
Among other things, he worked for a time down in Mississippi and Tennessee on the levees. Also worked on the railroad. taker in 1900.
Assisted in surveying the townships etc. like his brother Tom. He was an active politican, held various offices in school and townshipas well as state. Served as representative in 1917, also as senator in the 1919 and 1921 sessions. He was Pirce County's first sensus

He married Sophia Gustavson of Varmeland, Sweden, Nov. 1901.

Andrew and fam. about 1915, house on the farm at back
Thei got eight children, Emma (stillborn), Arthur, Ester, Selma, Alice (died when an infant), Viola, Victoria and Justin Ferdinand.

Lived on farm south of Tunbri dge until 1939, when they moved to Rugby where they lived until their deaths. Mrs. Oksendahl died Des. 1945.

Harvesting at Andrew's farm early in the 1920s.

Newspaper article from the Pierce County Tribune June 5th 1952

There are those who consider themselves pioneers who came to this country 40 or 50 years ago. And we think they are right. But there is a difference among pioneers. Few, if any in this area, can top Andrew Oksendahl. Now approaching .fourscore and ten., he is living out his remaining time moving about among his children. But his health loses a little ground with the passing years, he is spending more and more of his time in Rugby with his son and daughter-in-law's family, Mr. And Mrs. Art Oksendahl. Don't anyone get the idea he is an invalid. Far from it, for a man of his years, his mobility is good indeed.

Born in Norway
Oksendahl was born in Norway and came to Herman, Minnesota when only 17 years of age. He came over with his brother Tom whom many of the people here will readily recall. They knew people at Herman, Jacob Leraas, for one, father of Louis Leraas , himself a pioneer in this community.

But Andrew stayed at Herman only two years. After that he came to Hillsboro, N.D., and worked on a large farm. This was in 1886 and this year also marked the time when Oksendahl first came to this community! That's 66 years ago.

He didn't stay here then, and he came because his employer and his relatives wanted Andrew to come up here to improve land on which they had filed. I believe it was in the Barton vicinity.

Oksendahl and his brother Tom made the long trek from Hillsboro with 4 oxen, some equipment and supplies. The supplies consisted mostly of guns and ammunition with which to rustle wild game for food. All kinds of game were very plentiful then, he says.

But even in 1886 there were some people in the area. He recalls that Welcome Holbrook and a man named Mendennall were already set up at Pleasant Lake. Pam Cruden, Sr., Billy Hamilton and a man named Williams were in the Barton area.

To build a shack, lumber had to be hauled from Minnewaukan which was the closest town.

A good team of oxen, Mr. Oksendahl recalls, was better in some than horses or mules. Feeding them was a cinch. You relieved them of their yokes at the end of the day and they made out for themselves. Unless somebody scared them away. That happened once to the two brothers. A small souled neighbor didn't want the oxen on his land and chased them off. They retrieved them miles away, where Rugby now stands. Oksendahl says he broke about 40 acres with the oxen for the first year 1886. He squatted on land for himself the first year up. The second year, he had only two oxen.

Indians Friendly
Often on his trips, Indians camped near him at night, but they never bothered him and he was in no hurry about getting sociable with them.

Oksendahl explained the difference of tree claims, homesteading and pre-emption, but it didn't register too well with us. At any rate, by a combination of two such privileges, a man could get a half section of land. But there was a time limit and a man had to make some improvements.

He was farming here in 1888 to 1891. The years were dry so he practically sold out for nothing to Emil Seel. He went to Minneapolis planning to work in the woods, but because of the heavy snows, no men were being hired. So Oksendahl ended up working on the levees in Mississippi.

In 1895 he went to Roseau County, Minnesota, and the Red Lodge Indian Reservation. He fished and hunted and all the while also looked for land to homestead. The law was that all swamp land belonged to the state. In the dry spring of that year, settlers moved into the lowland and contested the state's definition of swamps. Then the heavy June rains flooded out the would-be homesteaders, including Andrew. He walked a mile to dry land. After that experience he came to this community again and homesteaded land in Tuscorora Township. This was 1896.

Married in 1901
In 1901 he was married to Sophia Gustafson, who herself had come here to homestead land in 1899. The couple had 8 children, 4 girls and 2 boys living. The sons still live here but the girls are scattered over a wide area. Mrs. Oksendahl passed away in 1945.

Oksendahl had serious operation at 74 and another about 7 years ago. On the last deal, he almost didn't make it. He was in a Bismarck hospital for 6 days. Said he didn't know what all they had done with him but a lot of it he didn't know about until he got his bill. He complained of illnesses he suffered more than 50 years ago. He doesn't feel in the pink now either, but it could be that some of his trouble is due to not being used to North Dakota's variable weather.



His Obituary

His cause of death was cancer and pneumonia. He was a former state legislator, serving both the house and the senate. He served in the house at the session of 1917, and was a member of the senate at the 1919 and 1921 sessions. Andrew Oksendahl was born in Exingdalen, Voss, Norway Feb 5, 1865. He came to the US in 1883 with his brother Tom.
[next] [previous] [content] [main content] [printable]
Johan Carl Herlaugson Oksendahl
Written by Arthur (Arth) Oksendahl b. 1903, son of Johan Carl's brother Andreas (Andrew).
Collected by Hugo Solhaug
Introduction:
See also the page "Oksendahl bruk #2 in America", the Introduction.
Here more about the brother Torbjørn (Tom), here more about the brother Andreas (Andrew), here about the sister Dordei (Dina), here about the half sister Ingebjørg, here about the half brother Knut, here about the half brother Lars, here about the half brother Nils.
The story:
Johan Carl Herlaugson Yksendal was Born in 1867.

He immigrated to America i 1884, and came to Minnesota first. Stayed there for a short time, then left to go further west and join his brother Tom and Andrew in the Dakota Territory.
Since then not much more is known concerning him.

Some say he enlisted in the Spanish-American war, and was killed fighting Cuba.
Others say that he joined the army. And that his regiment was sent out into the Indian country on the western frontier, to quell an uprising. He tried to desert camp, and was drowned swimming across a river.
Some also say he changed his name. All attempta to gain more information concerning him have so far failed.

Not married, as far as we know.
[next] [previous] [content] [main content] [printable]
Dordei (Dina) Herlaugsdotter Oksendahl
Written by Arthur (Arth) Oksendahl b. 1903, son of Dordei's (Dinas's) brother Andreas (Andrew).
Collected by Hugo Solhaug
Introduction:
In America Dordei called herself Dina.
See also the page "Oksendahl bruk #2 in America", the Introduction.
Here more about the brother Torbjørn (Tom), here more about the brother Andreas (Andrew), here about the brother Johan Carl, here about the half sister Ingebjørg, here about the half brother Knut, here about the half brother Lars, here about the half brother Nils.
The story:
Dina (Dordei) Herlaugsdtr Oksendahl, born on Feb. 16 1872, and died July 6, 1937. Came to the U.S. with her brothers and sister in the spring of 1902.
Worked in the Rugby vicinity until her marriage Dec. 10, 1904 to Andrew Stromme born 1886.
They got tree children: Carl f. 15/12-1905, Arnold f. 23/9-1910 d. 23/3-1927, and Ella f. 6/8-1913.
They lived on a farm southwest of Rugby until the time of her death. Andrew Stromme (Andreas Nilsson Straume) Was born on Straume farm bruk #1 Modalen, a neighbor valley to Eksingedalen
[next] [previous] [content] [main content] [printable]
Ingeborg (Ingebjørg) Herlaugsdotter Oksendahl
Written by Arthur (Arth) Oksendahl b. 1903, son of Ingeborg's half brother Andreas (Andrew).
Collected by Hugo Solhaug
Introduction:
I America Ingebjørg called herself Ingeborg.
See also the page "Oksendahl bruk #2 in America", the Introduction.
Here more about the half brother Torbjørn (Tom), here about the half brother Andreas (Andrew), here about the half brother Johan Carl, here about the half sister Dordei (Dina), here about the brother Knut, here about the brother Lars, here about the brother Nils.
The story:
Ingeborg (Ingebjørg) Herlaugsdotter was born July 14 1880, and died March 24, 1950.
Immigrated to the US with her brothers and sister Dina, in the spring of 1902.

Lived in this vicinity until her marriage to Louis Leraas March 19, 1904. They settle don a farm south of Tunbridge, and lived there until they sold the farm and moved to Rugby in 1946.
They got 7 children Mabel born oct.20-1904, Harold born apr 3-1906, Lillian born jul 27-1908, Evelyn born sep 1-1909, Ethel born jan 2-1915, Theresa born aug 11-1918 og Loretta born 1925.
[next] [previous] [content] [main content] [printable]
Knut Herlaugson Oksendahl
Collected by Hugo Solhaug
Introduction:
See also the page "Oksendahl bruk #2 in America", the Introduction.
Here more about the half brother Torbjørn (Tom), here more about the half brother Andreas (Andrew), here about the half brother Johan Carl, here about the half sister Dordei (Dina), here about the sister Ingebjørg, here about the brother Lars, here about the brother Nils.
The story:
Knut Herlaugson Oksendahl was born in 1883.

Knut's farm was about 5KM southwest of Rugby, across the road from his brother Tom (Torbjørn). It is farmed today by Tom's grandson and grategrandson.
[next] [previous] [content] [main content] [printable]
Lars Herlaugson Oksendahl
Written by >Leland Andrew Oksendahl, grandchild og Lars's half brother Andrew.
This comes from the history of Pierce County and Rugby. The book is by no means complete
Collected by Hugo Solhaug
Introduction:
See also the page "Oksendahl bruk #2 in America", the Introduction.
Here more about the half brother Torbjørn (Tom), here more about the half brother Andreas (Andrew), here about the half brother Johan Carl, here about the half sister Dordei (Dina), here about the sister Ingebjørg, here about the brother Knut, here about the brother Nils.
The story:
Lars Herlaugson born 1885, emigrated in March of 1902, together with his brother Knut, and sisters Ingeborg (Mrs.Louis Lerraas and Dina (Mrs. Andrew Stromme). He worked as a farm laborer for a while then homesteaded on land in Ness township.

Later he sold it and returned to Norway for a years visit. On the boat he met his future wife, Karen Thorson of Chicago IL. She was also going back to visit her family.
When he returned he purchased a farm about 2 KM. from Andrew's farm. He married Karen in 1914. Two children were born to them, Sigrid and Thelma (Mrs. Vernon Fjellanger). And Lars' grandson still operates the farm.
[previous] [content] [main content] [printable]
Nils (Nels) Herlaugson Oksendahl
The story is told by Nels LeRoy Oksendahl, son of Nils (Nels).
"I will attempt to tell you some of my fathers story about coming to America."
Collected and edited by Hugo Solhaug
Introduction:
In America Nils called himself Nels.
Im my gjestebok you can find a message from the author of this article, LeRoy Oksendahl, which is son of Nils, and from one of LeRoy's sons, Eric.
See olso the page "Oksendahl bruk #2 in America", the Introduction.
Here more about the half brother Torbjørn (Tom), here more about the half brother Andreas (Andrew), here about the half brother Johan Carl, here about the half sister Dordei (Dina), here about the sister Ingebjørg, here about the brother Knut, here about the brother Lars.
The story:
Nels (Nils) Herlaugson Oksendahl born 1886.

When he was sixteen his brothers Tom and Andrew came back to the farm in Norway and took Lars and Knute, Ingiborg and Deana with them back to Rugby North Dakota. They decided against taking my Dad because he was too young.
I think this made him angry, although he never said so. Anyway he got a job herding goats for a crown (27cents) a day. At the end of two years he bought a suit of cloths a shot gun and a ticket to Rugby North Dakota. We still have the shotgun, I gave it to my oldest son to keep.

When he arrived in New York he had to go through Ellis Island, where millions of immigrants came. some of the Oksendahl that came through there had there name changed to Oksendahl because that's the way some clerk thought it should be spelled.

When Dad arrived in Rugby he worked for his brothers for a dollar a day (big wages compared to Norway) he saved enough from this to go to a Lutheran college in Grand Forks North Dakota to study English and study for his citizenship.

When he had learned enough he went to Hettinger South Dakota and worked for a Standard Oil company. His job was driving a wagon with a tank full of Kerosene and selling it from farm to farm to the homesteaders. He found what he thought was an abandon homestead and filed on in it. The owner showed up a few months later and they went to court. Dad lost. he often said that was the luckiest thing that happened because it hasn't rained there since!

He found his way to Sheridan county in extreme Northeastern Montana where there was land open for homesteading. Dad worked for a man named Olaf Berg who had a big ranch and a store in Redstone. The railroad only came as far as Plentywood so Dad's job mostly consisted of hauling freight from Plentywood the twenty miles to Redstone. He did this for over two years saving enough for a grubstake to homestead with. He filled on a homestead in 1911 15 miles south of Redstone. I often wondered how or why he stuck it out.

He said in 1918 and in 1919 he thrashed 196 bushel of wheat each year. He made more money working on a thrash crew than he did farming and he said he made more money playing poker under a bundle wagon than he did both.

The homesteading came to and end about 1923 when the farm population in Montana peaked. Every years since then there are less farmers in Montana.

He had a heart attack in 1951 and I took over the farm. Dad died in 1959
[next] [content] [printable page]
version 1.0
Killed by the Indians
---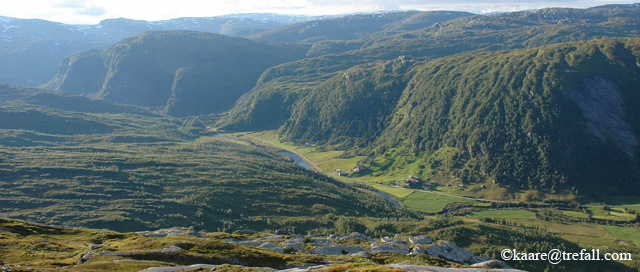 The farm Ekse in Eksingedalen where Johannes Knutson Ekse emigrated from.
[next] [previous] [content] [main content] [printable page]
Johannes Knutson Ekse
Killed in the Belmont massacre 24th of August 1862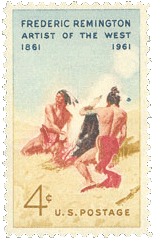 [next] [previous] [content] [main content] [printable page]
[next] [previous] [content] [main content] [printable page]
Jackson County 24th of August 1862
From Martin Ulvestad's book
Norwegians in America,
from 1907.

Her the chapter about Jackson County, Minnesota.

Ulvestad collected in the end of 1800 and the star of 1900 data and stories about the Norwegians immigrated in America so far. He described each State, and each County in each State. The chapter about Jackson County in Minnesota tells about parts of The Sioux Uprising, and immigrants from Eksingedalen, Teigdalen, Evangere and Voss, all in Norway, which was killed in that uprising.
The name Fyre at Bolstad is in this article called Førde, and Mestad in Teigdalen is called Mitstad. Furnes on the other side of The Bolstad Fjord is called Førenes. Ekse in Eksingedalen is called Exe. Lars G. Hjørnevik and whife, which aso where killed in the uprising, are not mentioned in this article.


Jackson County. (Page 99)
An English translation could be found on this link: freepages.genealogy.rootsweb.com/~maggiebakke. Search for "Jackson County".
This tarnslation is done by Olaf Kringhaug © 2004-2005. I hope to get permission to use his translation on this page later on.

[next] [previous] [content] [main content] [printable page]
[next] [previous] [content] [main content] [printable page]
Astri, My Astri

Introduction to Deb Nelson Gourley's book Astri, my Astri, 2005, could so far only be found in Norwegian.


---
Driving to Eksingedalen after reading Deb's story about her great great grandfather Hjornevik
By Kåre Trefall.
---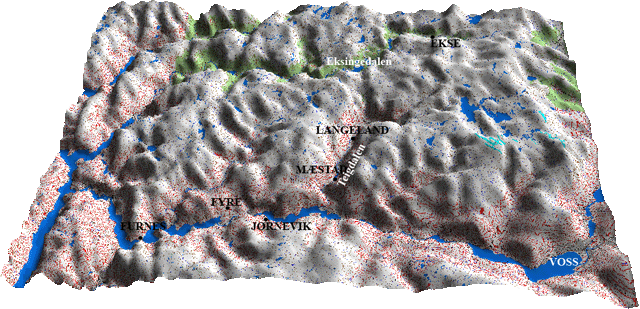 Larger version of the map here.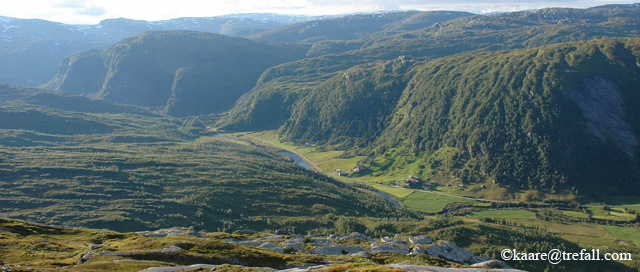 The farm Ekse in Eksingedalen where Johannes Knutson Ekse emigrated from.


So far only in Norwegian.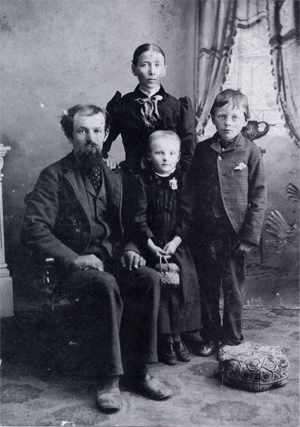 Johannes Joernevik & Ingeborg Ekse Joernevik
---
[next] [previous] [content] [main content] [printable page]
[next] [previous] [content] [main content] [printable page]
The War against the Sioux
[next] [previous] [content] [main content] [printable page]
[next] [previous] [content] [main content] [printable page]
From the Indian War in 1862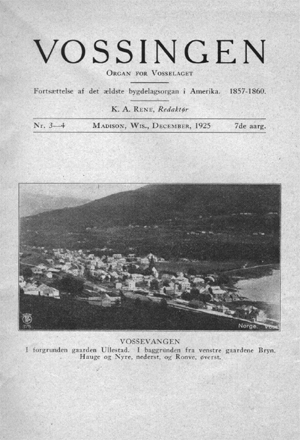 From the Indian war in 1862

One of the most terrible happenings in the Norwegian American pioneer saga was the Indian uprising in 1862, in which a large number of pioneers, among them many vossings, lost their lives. A good deal has been said about these horrible events, but all doesn't agree generally and probably all hasn't ever been told.

The event especially involved the vossings that were in Jackson County, MN. No fewer than 13-14 people lost their lives at the hands of the Indians. We were reminded of this both last year at the Vosselag annual meeting (stevne) in Fergus Falls and at the centennial in the Twin Cities this summer, because a vossing, who, as a boy, had played the role of a hero dealing with these events, was present at our convention. This was Ole F. Førde, who himself was wounded and whose father met his death in the Indian attack. We will be able to hear about the particular circumstances at first hand. Whatever he has forgotten, we are lucky enough to have reliable accounts from other sources. First, we shall tell a little about the pioneers from Voss, who settled in this, the so-called .Wild West., as Jackson County then was, and we will start with the Førde family.

Ole F. Førde, whom we met at our conve0ntion, was born in Evanger, Voss, in 1851. His parents were Ole O. Fyre (here Førde) born about 1819 and his wife Martha Olsdatter, neé Bolstad. They also had another son, Ole O., so the Ole name was used a lot in the family. The mother died early and the father remarried with Kari Nilsdatter Horveid. In 1858, the family went to America and settled first in the Big Canoe-settlement, Winneshiek County, IA. Knut Mestad came to Big Canoe with his wife, Brita, as well as Nils K. Ekse and wife, Brytva, neé Mestad and Nils's brother Johannes K. Ekse. Whether all these came to America simultaneously is not known. Nils Ekse died shortly after his arrival in Big Canoe, and his widow, Brytva, married for a second time to his brother, Johannes Ekse.

Lars L. Furunæs and his wife Anna also came to Big Canoe and they must be reckoned among the vossings because Stamnæs parish, from where they came, belonged to Voss until the 60.s.. It is discovered further, that Lars Hjørnevik and his wife were there as well as Lars Lee, a brother-in-law of Førde, the elder, and Knut N. Borge or he who is most often called Knut Langeland. He was born at Borge in Haus Township, but both parents were from Voss. His wife Anna Knutsdatter, neé. Bjørgo was a sister of K. Bjørgo, the elder and M. Langeland.s wife, Gjertrud, in Big Canoe All of the above went to Jackson County and settled in Belmont Township, near the Des Moines River. Ole Førde and his family, wife and four children, went there in 1859. (One son, Nils, was born there). He bought some "claimed" land. It lay next to the river. Knut Mestad and his wife evidently accompanied Førde. They settled a short distance from him.

Knut Langeland went there in 1860. He had his wife and seven children. There were many others in the same party. It is said that there were no less than eight wagons in the train. Whether Ekse, Furunæs, Hjørnevik and Lee were along then or had come before is unknown. Everyone settled a short or longer distance from each other in about a three mile radius. Førde, Mestad, Ekse and Furunæs must have lived closest together by judging what followed. The Civil War started in 1861 and the militarily competent young men were sent to the South. The Indians then became impudent. What caused them to break out in open uprising isn't completely clear. Enough said, that a band of them attacked and killed several pioneers at Acton, MN, August 17, 1862, and on the 20th of the same month another attack was made at New Ulm, about fifty or sixty miles north of the Jackson settlement. Rumors soon reached them, but they had no accurate message. On Thursday, the 21st, a number of pioneers met for a council and it was decided to send a man away to New Ulm to scout and to learn what had happened. A man accepted the assignment, and they paid him 28 dollars for the job. The man went, but they never heard more from him. They then decided to live together temporarily. In Førde's area people were to assemble at his place in case the Indians appeared. Then came Sunday the 24th of August, which became a fateful day for the settlement. On the previous evening, four families had gathered at Førde's house. That was Knut Mestad and his wife, Johannes Ekse with his wife and 5 children, Lars Furunæs with his wife and children besides Førde's own family, himself with a wife and five children. In the morning some went to do chores for their animals, including Knut Mestad and his wife and evidently Lars Furunæs. Shortly thereafter a collection of Indians came. They had already been to Knut Langeland's home, as we shall see. Ole Førde, the elder went, without suspecting the proximity of the redskins, went to his pigpen. They spied him and shot him down. It later was revealed that he had received five bullet wounds. The house was soon surrounded. Around the house was a fence and several of the Indians positioned themselves by this. There were two doors to the house. Additionally, there was a cellar with access through a trap door in the living room floor. There also was a raftered loft, reached by a stair. A wagon stood outside the house loaded with moving goods. People had planned to move away as soon as they heard something certain about the uprising. There was also a bottle of whiskey on the wagon. A number of Indians searched the wagon. They found the bottle and made good with the contents. This gave the people in the house some time to prepare. The women with the many children fled to the cellar, Johannes Ekse, the only adult male inside, positioned himself at one door and the 11-12 year-old boy, Ole F. Førde, placed himself at the other. There were about 4-5 guns in the house, that had been distributed by the government for a so-called "home guard" (Civil Armament). Ole Førde suggested that they should fire at the Indians; but Ekse thought not, that it would be of no use. It would merely be barbaric, he thought. There were also several openings in the walls. They were never used.

When the rest had made it to the cellar, a child of Anna Furunæs began crying, and there seemed no way to get her to quit. Anna then said that she would have to go up again so it wouldn't summon the others, and that she did. The child stopped screaming so she tried to go back down, once if not twice, said Førde. Nevertheless, it was just the same. As soon as they reached the cellar the child started to scream and when the Indians started to breach the door, she stayed up in the living room. There was a straw mattress thrown over the trap door and she probably did it.

When the whiskey bottle was empty, the Indians prepared to go at the door. Four or five of them positioned themselves back of each other, their hands pushing against the shoulders of the other and the foremost one against the door. With the push, the door flew open and they plunged in. Johannes Ekse, who was standing inside hurried up to the loft. He was shot there. Anna Furunæs also died, probably from a gun shot wound; but her child was left alone. Ole F. Førde ran out the back door when he saw Ekse go up the ladder. Several Indians were standing by the fence outside, he said. There was a little hole in the fence that they used to go through when they fetched water. Without stopping, he ran through this and down the path that led to the spring in the riverbank. The Indians didn't immediately perceive how he had gotten through so there was a short interval before they pursued him. When he neared the edge of the bank there was one who shot. The bullet hit him in the right elbow and it smashed the elbow bone. He turned and saw an Indian not far behind, re-loading his gun. The arm hurt and was bleeding frightfully; without stopping, he got over the river bank. He threw himself down by the path and soon after the Indian went by him. If he hadn't drawn his legs in in time, he would have stumbled over him, stated Førde; he was that close. The Indian looked intently along the path on the river bank and didn't realize he was so close. Ole crawled over in the opposite direction and got out of sight. By a long alternate route, he tried to reach Mestad's house so he could inform them. But when he got there, Mestad and his wife had already tried to go home but fate was against them and they were shot on the way, as was shown later. Ole didn't waste much time there but took off for a farm where there was to be a revival meeting on Sunday. The man's name was Taraldson, he thought (evidently Holstein's). It was about 3 miles away, on the other side of the river. It was difficult to find a ford and he again had to make a detour. He finally got there just as they were about to sing. He heard them announce the number of the hymn. Then a woman saw him and told the others. She noticed that his arm was bloody and that he had been wounded. There was a moment of silence, until he entered and tried to tell what had happened, that the Indians were on the warpath. A housewife thoughtlessly grabbed his arm to see what was wrong. She was sprayed with blood and Ole gave a cry of pain, which made them understand what had happened. Now there was action. They all went out to their wagons in order to get away as fast as they could. Some went to their homes first; but no one dared stop longer than was really necessary. The people assembled at Spirit Lake, 26 miles to the south and each seemed only to be trying to save themselves and their families. No one seemed to be concerned for their succor boy, Ole Førde. Only after they were a long ways on the road southward and they didn't see him again, did they ask about him. He, meanwhile, had fallen on the wayside and wasn't able to go any further. Several went back to look for him and they found him after an hour's search. In the group was a person who knew a little about binding wounds, he was said to be an AWOL soldier, they said. He wrapped up Ole's arm. His mother had to pay him ten dollars for this later. They all got to Spirit Lake intact, where people found protection. Now it is to tell about what happened to the others in Førde's house and neighborhood. The Indians didn't spend very long at each place but hastened from pioneer to pioneer murdering any they encountered. Later, they returned for plunder and mutilation. They left Førde's house without having discovered the dugout cellar. They may have spied the Mestad people and Lars Furunæs and set after them. They evidently went to the Østerdaler Knut Slaabakken's house. Knut's son, Anders, and his brother Mikkel were home. Mikkel was shot and killed. Anders was also shot. In addition, he was hit in the head and finally stabbed and left for dead. But he recovered enough to crawl to the stable and lie down. He was found three days later. It is not known when Lars Hjørnevik's house was ravaged. Enough to say that both he and his wife met their deaths there. Lars Lee escaped to Spirit Lake.

When those in Førde's cellar noticed that all was quiet in the house, they climbed up and hurriedly found some food and some money that was in the house and went to a cornfield in order to better hide. As they were coming out of the house, Knut Langeland's 8 year-old daughter, Martha, arrived. As mentioned before, the redskins had been to his house and had created a horrible scene. Langeland's wife and four children had been killed. The biggest had been shot, the smaller ones slung against the wall. Two more had been left for dead. Knut, himself, had been out in the fields after cattle. He heard the shooting and hurried home. When he got there, the Indians had gone. He discovered that two of the children were still alive; he took one under each arm and started for Spirit Lake. One child died during the journey but the other recovered. The daughter who came to Førde's house had hidden in a cornfield. Another sister had been with her, but hurried home when the Indians came, and she was killed. When the Indians had gone away, she tried to reach Førde's house where they had been told to meet. Thus she was united with those who came up out of the cellar. Soon after they made it to the cornfield, the Indians returned. The dead were then mutilated and other vandalism done. From the field, they could see their departure. The cellar also had been discovered and some little pigs had been put down there. The people in the field lay low until dark. Then they attempted to go to Spirit Lake. It was a difficult journey . eleven children and two women. Anna Furunæs's children were not taken along because they were thought dead. They were found three days later beside their mother, but still alive. They wandered all night long and when it began to dawn, they hid in some tall grass until darkness came again, and then they set off again. It was slow. Their food ran out and thirst tormented them. In order to get a little water, one woman took her skirt and drew it in the dewy grass (some say apocryphal), then wrung it out over a pail. They, of course, lost their way. The hike came to an end one morning, when they encountered some soldiers, but they were so frightened, they thought them redskins. At last, they recognized them as helpers and they were taken to Spirit Lake. Førde thought that was on Wednesday morning. Others say Thursday morning. In Spirit Lake, a doctor was going to care for Ole's Førde's arm. He recommended that the arm be amputated, but the mother didn't like this. They soon went with the others, who had survived the bloodbath, back to Big Canoe. In Decorah, Førde's arm got attention by Doctor Billington and it healed but never regained its strength. The mother, Kari Førde, refused to go back to the fateful farm in Jackson County and sold it to a Slaabakken for 150 dollars. Another setback occurred in that Ole Førde, the elder, before his death had lent 800 dollars to a man named Carter. We have no account of the man nor the money.

Ole F. Førde married Betzy Nilsdatter Gilderhus in 1873. He first took a "homestead" and farmed it, and then he was employed by Great Northern Railroad and now lives in Wyndmere, ND. He has seven children: Martha, Ragnhild, Nellie, Albert, Seward, Oscar and Albin. We can tell about Knut Langeland, that he, as soon as he had brought his daughter to Spirit Lake, took off with a troop of soldiers back to see if anyone remained alive and to bury the dead. Since, he came back to Big Canoe settlement and stayed there until the 1870's, when he moved to Watonwan County, MN, where he lived the rest of his life with his daughter, Julia . the one he had carried to Spirit Lake. He never overcame the shock he got at the hands of the redskins. His daughter, Martha, married a Sivertson and lived in Westbrook, MN. She had six children. Furunæs's children grew up with Jacob Ekse in Big Canoe and later lived with Blackhammer, Spring Grove, MN. The two women, who were in the cellar with their children, maintained always as God's decree that that child wouldn't be quiet in the cellar and thereby saved the others.

K. A. R.
[next] [previous] [content] [main content] [printable page]
[next] [previous] [content] [main content] [printable page]
The Indian War 1862
[next] [previous] [content] [main content] [printable page]
[next] [content] [printable page]
version 2.0
Traefald in America
---
[next] [previous] [content] [main content] [printable page]
This article was first published in the book Vaksdal Historielag årbok 2006.
About Traefald in America,
and about finding ancesters via the internet
By Kåre Trefall
[next] [previous] [content] [main content] [printable page]
[previous] [content] [main content]
Copyright © kaare@trefall.com 2004-2019 (pgp)
Last updated 17th of August 2019