[next] [previous] [content] [main content] [printable]
Rasmus Oksendal
Collected and written by Karen Windheim, Oregon, USA.
Introduction by Kaare Trefall
Introduction:
Rasmus Nilsøn Øksendal (1884-1969) was seventh child of Nils Larson Øksendal (1846-1891) and Anna Rasmusdatter Straume (1845-1913). Rasmus went to America in the period 1906 to 1909. Home again Rasmus married Kari Nilsdotter Trefall (1893-1984) in 1913. Kari and Rasmus emigrated to USA, North Dakota in 1913. Their story in America could be found in Rasmus Oksendal Family. Kari's childhood on the farm Trefall in the valley of Eksingedalen could be found in Kari's stories.
The story:
Rasmus. Photo by Karen.
Rasmus was born October 5th, 1884 on the Oksendal farm in Hordaland, Norway. On the Oksendal farm lived Rasmus' parents Nils of the Oksendal farm and Anna from the Straume farm, his brothers and sisters Lars, Kari, Nels, Borghild, Anna, and Ivar. Other families lived on the same farm [1] so used the name Oksendal. Very little is known about Rasmus' life in Norway, he did live on a farm that Kari says was hard work "All things up the hill and down the hill". Hearing stories about American from his uncle Ivar [2] and two brothers, Lars and Nels, in North Dakota, Rasmus himself thought it would be easier farming in America. Nels returned to Norway for a visit and in March 1906 Rasmus went back to America with him. Also sailing with them was a 4th cousin Agathe Andersdtr. Lavik, 22 years old. Twenty-seven Norwegians left their homes that day, all in their 20s. After staying with uncle Ivar awhile, Rasmus and Nels bought farms in North Dakota near Maddock.
Lars homesteaded near Butte and later sold it and purchased a farm north of his brother Nils. Lars never married and passed away in 1953.

It has been wrote that Rasmus live in a cave for awhile, many farmers had sod houses at this time, and some of them were built Into the hillside, maybe resembling a cave. Sod houses were built by cutting sod (grass, roots and dirt) into strips about 8 inches wide and several feet long and then laying these on top of each other until the house was complete. After Rasmus had some kind of Illness he decided to return to Norway. It isn't known, how Rasmus came to be selling things door to door but this is where he will find his future wife.

Kari writes [3], "Later it happened that the man I didn't know anything about came to our house at Trefall, selling material for sewing, my mother told the two men to come in and set down. When they did no one would go in and talk to the 'stringers'. Mother said 'Kari you go, you can talk better.' After I went the rest of them came also at least my father came. It so happened that the string man had a brother in Oksendal named Ivar and he needed help, so dad sent me to Oksendal to work." This gave the string man time to get acquainted, and when the work was done at Oksendal he came to Trefall to visit. Four years after coming back from America, Rasmus asked Kari to marry him.

On June 28, 1913 they were married In the church at Nesheim and had a large party in the home of Karl's parents among many guest and 'many presents'.

After the wedding Rasmus and Kari lived on the Oksendal farm and soon Rasmus thought farming in North Dakota was easier then farming the hills of Norway. One day he told me he is going back to America to make merry and come back after a while. In a few short months they both had decided to cross the 'big pond' and start their new life in a new country. Rasmus kept the farm by renting it out. "We gather our finery and hung it up in a little room, and took along what we could in a trunk, he bought the ticket and off we went down to the ocean." Coming to the North Sea [4] they boarded a large boat to cross over to England and boarded a ship to sail to Canada [5].

They sailed on the Cunard Steamship Line [6] leaving Norway on Aug. 22, 1913, docking in Quebec, Canada. It took nine days to reach Quebec, through the St. Lawrence River route. They boarded a train and their trip ended in Maddock, a town nestled in the heart of a vast grain growing section of fertile North Dakota. Story continued in Rasmus Oksendal Family.

[1] The same farm but different 'bruks'. A Farm could be divided into parts, each called a "bruk".
[2] In ND Oksendahl was spelled with an 'h' in it. Rasmus dropped the 'h' when moving to Washington.
[3] Most spelling was left the way she wrote it and____ are words I couldn't figure out.
[4] records show they sailed from Bergen
[5] The authorities in Quebec were not so particular about the number of passeagers on board foreign ships and this made it possible for the shipping companies to carry a greater number of passengers to Quebec than they could to New York. Quebec took over as the main point of entry for Scandinavian Immigrants so the ships would carry emigrants westbound, and timber eastbound, so they were able to offer cheap affordable fares.
[6] The Cunard Ship line built the Queen Mary in 1936; they combined their business with the White Star Line (owning the Titanic) and became the biggest steamship company in history.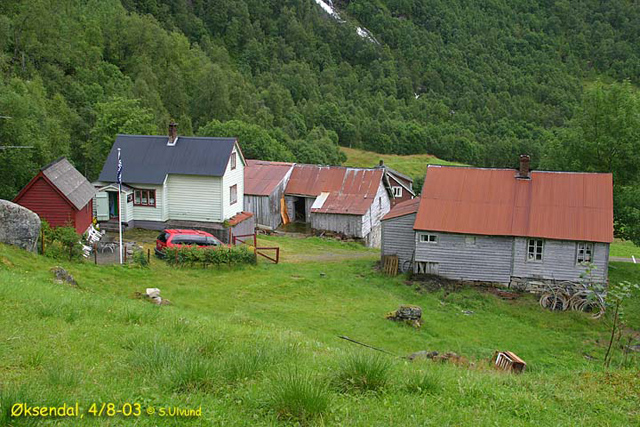 The Oksendalen farm in Eksingedalen where Rasmus grew up. Foto by © Svein Ulvund, VossNow
[next] [previous] [content] [main content] [printable]
Copyright © kaare@trefall.com 2004-2023 (pgp)
Last updated 17th of April 2023