[next] [previous] [content] [printable page]
The Oksendal / Trefall in America
Some of the emigrants from Yksendal bruk #1, and one from Trefall bruk #2
---
Content: [all at one page] [printable page]
Introduction, by Kaare Trefall

Lars Larson Yksendal b. 1852, gew up at bruk#1 on the farm Yksendalen, in the valley of Eksingedalen, on the south coast of Norway. He emigrated to Minnesota in America in 1875, 23 years old. His story is not told here.

The younger brother, Ivar Larson Yksendal b. 1861 went after, 6 years later. He went from Bergen on March 22. 1982, 21 years old and unmarried.

On the same boat there where two young men also from Eksingedalen, to neighbours from the farm Flatekval: Halvor Johannesen Fladeqval b. 1862(1?) from bruk#1, 20 years and at that time unmarried (later to be killed in an accident in America, stamped to death by horses, leaving wife and small children), and Johannes Knudsen Fladeqval b. 1862(1?) from bruk#5, 20 years and unmarried.
Iver (as Ivar Larson now called himself) went to Minnesota where his brother Lars lived. Instead of farming Iver turned to serve God, finishing as a 'candidate in theology' in 1892. Of unknown reasons Iver moved to Nord Dakota in 1893. In 1896 he baught a farm near Maddock, Benson County, North Dakota. When moving to North Dakota he started to serve as pastor for three congregations, and was constantly traveling in 16 years to his helth was gone.

The oldest brother, Nils Larson Oksendal (1846-1891), lived on the farm in Norway, and was a farmer there. He and his wife Anna Rasmusdatter Straume (1845-1913) had the children Lars b. 1875, Kari b. 1877, Nils b. 1878, Borghild b. 1880 d. 1882, the twins Borghild and Rasmus b. 1882 - Rasmus d.1882, Rasmus b. 1884, Anna b. 1886, and Ivar b. 1887. Four of these seven siblings growing up left for America.
At 4th of April 1900, Nils Nilson 22 years and unmarried, left for his uncle Iver in North Dakota. After living at his uncle's farm for a while, he bought a farm in 1901 13 miles southeast of Maddock.

Two years late the older brother Lars Nilson was leaving, 27 years and unmarried, from Bergen, on 4th of March 1902. His sister Borghild, 19 years and unmarried, was leaving with him. The story about Borghils is not told here.
On the same boat there also where four unmarried siblings from bruk#2 in Yksendalen. They where children of Herlaug Andersson Yksendal (1832-1903). The eldest, Dordei Herlaugsdtr b. 1872, 30 years, was daughter of Herlaug and his first wife Ingebjorg Torbjornsdatter Fjellanger (1830-1879), the three others Herlaug had with wife number 2 Sigrid Knutsdatter Trefall (1847-1931): Ingeborg Herlaugsdotter b. 1880, 22 years, Knud Herlaugson b. 1883, 19 years, and Lars Herlaugsen b. 1885, 17 years. Two other sons of Herlaug and his first wife had left for America 19 years earlier, on 20th of March 1883: Torbjørn Herlaugson b. 1863, 20 years and unmarried, and Andreas Herlougsen b. 1865, 18 years and unmarried. One year after that, one more sibling left, the brother Johan Carl Herlaugson b. 1867, 17 years and unmarried. So seven of these fifteen siblings left.

Back to the story about they who left from bruk#1:
Lars Nilson bought a farm in Butte, North Dakota in 1903. Some time later he sold this farm and bought a new one at East Fork Township, north for his brother Nils.
Nils rented out this farm and went back to Norway in late 1905. In the spring 1906 Nils went to America again, this time followed by his brother Rasmus Nilson, 22 years and unmarried. As reason in the emigration papers Rasmus marked out "Better income".

At the same boat went also a girl from the farm Lavik in Eksingedalen. This was Agate Andersdotter Lavik b. 1884, 22 years and unmarried. She was sister of Maria Andersdotter Lavik (1870-1938) who married Olav Nilsson Straume (Flatekval) (1867-1944) and moved to the farm Flatekval in Eksingedalen, farming at bruk#6 there. Maria and Olav is my great grand parents on my mother's side.
Rasmus went back to Norway in 1909. He had probably bought a farm near his brother Nils, which he must have sold before he left. Back home he met Kari Nilsdotter Trefall on bruk#2 on the farm Trefall. She was daughter of Nils Jonson Ekse (1859-1938) and Anna Johnsdotter Trefall (1869-1947), and sister of my grandfather (my fathers father), John Nilson Trefall (1890-1985). Rasmus and Kari married at 28th Juni 1913. The 22th of August the same year they left for America, they went from Bergen to Quebec in Canada with the Cunard Steamship Line, and by train to Maddock, North Dakota.
They settled in Maddock. The first child was born at brother Nils's farm. After different occupations, the family rented the Amonrud farm in Rich Valley, 6 miles south of the town the had lived in. They bought the farm a short time later. They lived on this farm for 26 years. In the 20s they lived a good, but hard life on the farm. So came the depression in the 30s, in addition to drought and grasshoppers stripping down the grain fields. They had to leave the farm. The ended up in the city of Spokane in the state of Washington, where both Rasmus and Kari are buried.

Here are the stories told about their life "over there". About Iver Larson, the Reverent, and about the brothers which Iver was uncle to: Nils Nilson, Lars Nilson and Rasmus Nilson. Most about Rasmus and his wife Kari Nilsdotter Trefall.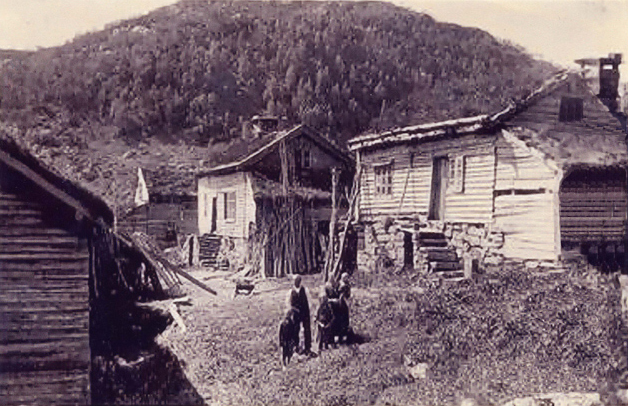 Yksendalen in the 1920s. Bruk #1 in the front.

These stories are collected and edited by Karen Windheim. She is married to Gary Windheim, which is a grand child of Kari and Rasmus. Hugo Solhaug (Kari's aunt, Ragnhild Jonsdotter Ekse (1869-1953), is Hugo's great grand mother) told Karen and Gary about my page, www.trefall.com, and this "project" started out.

[1] The same farm but different 'bruks'. A Farm could be divided into parts, each called a "bruk".
Copyright © kaare@trefall.com 2004-2019 (pgp)
Last updated 17th of August 2019