The Emigration
[More about the emigration from Norway to America will be added here.]
Introduction
Norway's history in America started out in year 1000 when Leiv Erikson sailed from Iceland to the east coast of this new continent, and continued in "modern times" when the sailing ship "Resturation" crossed the Atlantic in 1825 with 52 Norwegians. The "Norwegian emigrations father", Cleng Peerson, welcomed them, and they satteled by Lake Ontario, in the state of New York.

The sailing ships used 2 to 3 months in crossing the Atlantic. In the 1850s the travelling time was reduced to about 40 days because of bigger and better ships. The journey was hard, with very little space onboard for each passenger, in addition to sickness and bad weather. In the year 1861 about 200 passangers died on these journies.
The months April, May and June was selected for the Atlantic crossing, a new home had to be found before the coming winter.

The ticket price from Norway to Minnesota for two adults and five children was in the 1870s about 1200 Norwegian kroner. Selling the farm was not always enough for the travelling expenses. In the 1890s the ticket prices went down, so more people could afford to go.

From mid 1860s steam ships took over for the sailing ships.
The crossing time was then reduced to about 10 days via England. In the new continent they landed in New York or Quebec. Normally the journey went further westwards to the Midwest, going with steam or canal boats, and further with prairie wagons.

When the Quebec - Detroit railway opened in 1856, the travelling time and trouble was reduced, although the train wagons in this "immigrant mass-transport system", often was of type "cow wagons".
Statistics
The graph below shows the number of persons emigrating each year from Norway to America from 1815 to 1930. More tan 800,000 Norwegians left for America those years.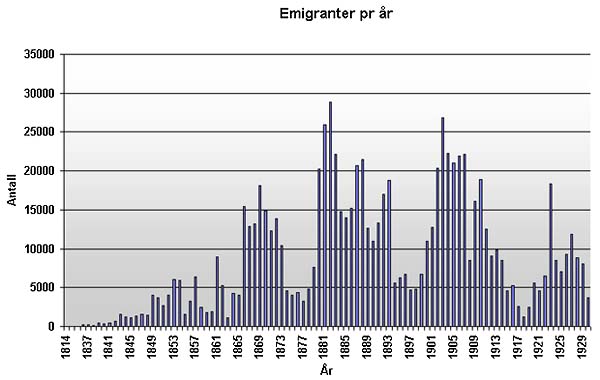 Graph from the Digitalarkivet exhibition: The Norwegian emigration 175 years
According to the census of 1990, about 3.9 million Americans of Norwegian ancestry were living in the United States. Norwegian Americans are still concentrated in the Midwest, but there are Norwegian Americans in every single state in the US.
The map below shows the number of Americans with Norwegian ancestry in each state in this census (the states).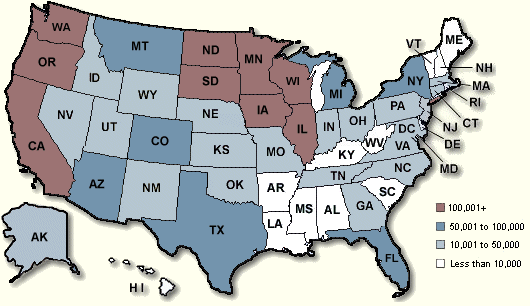 Map from The National Library of Norway's page: The Promise of America
Copyright © kaare@trefall.com 2004-2023 (pgp)
Last updated 17th of April 2023